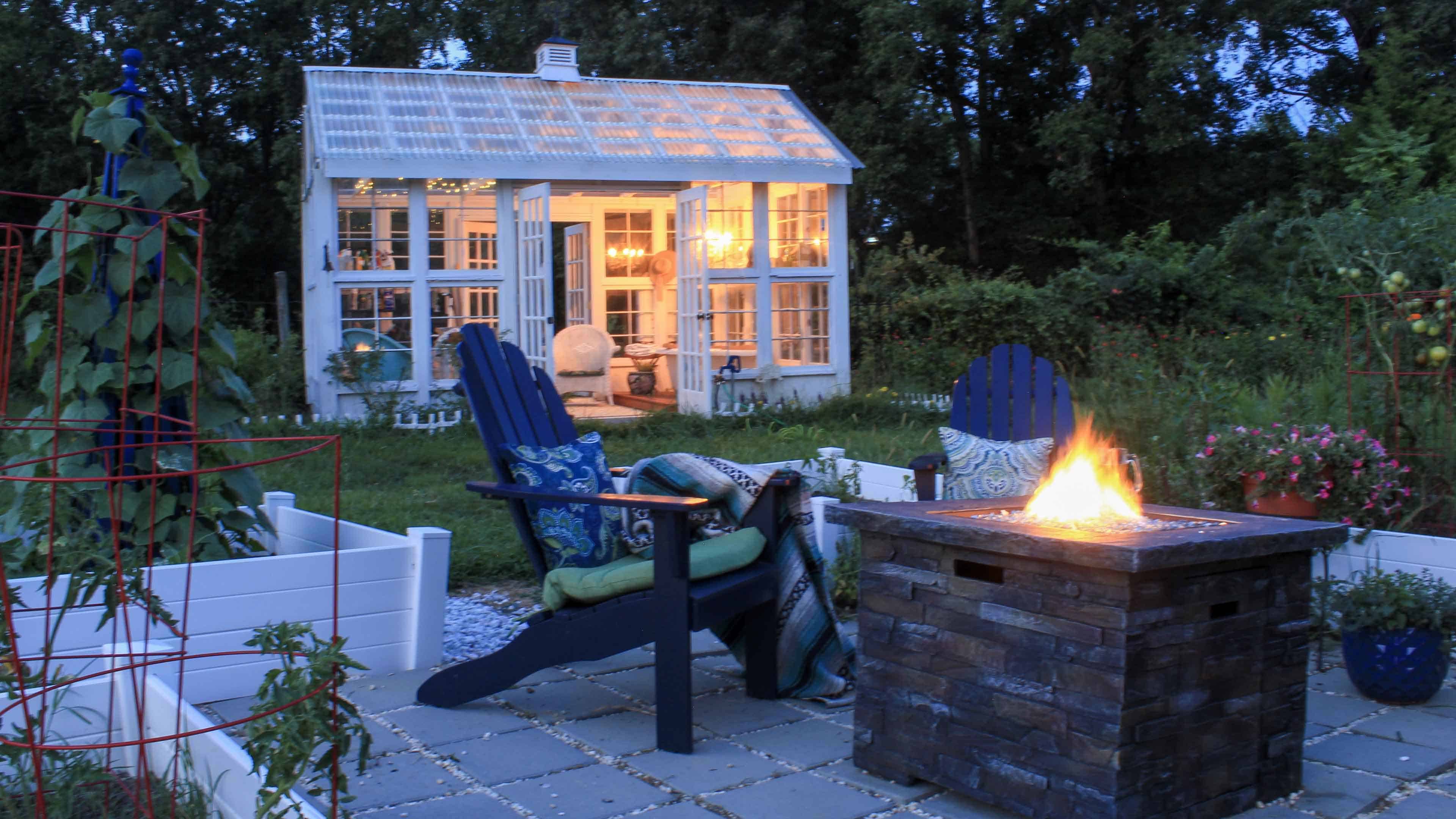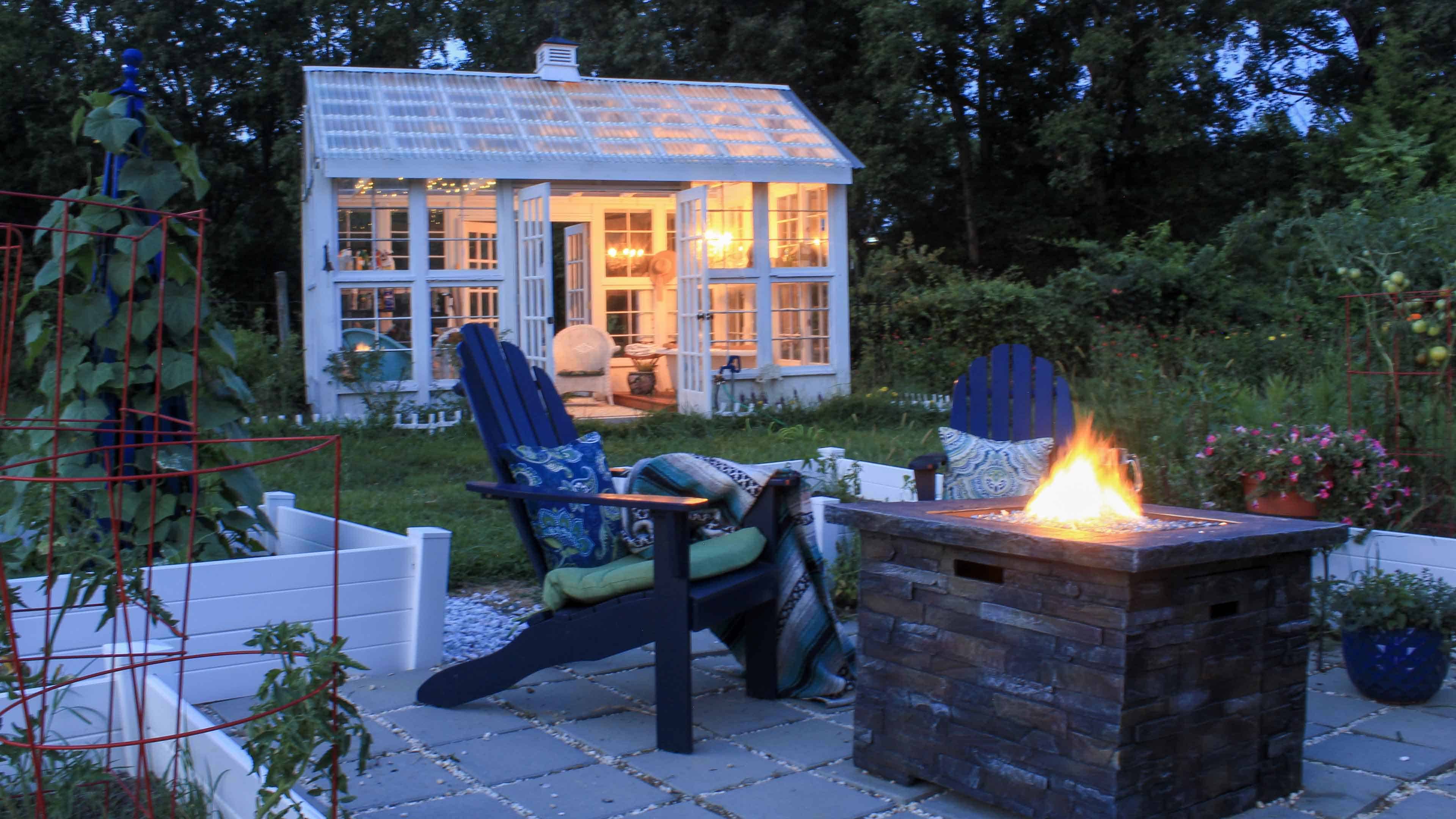 As temperatures cool and the days get a little shorter, you're likely looking to extend your fall outdoor living, right? Just because it's getting dark out earlier or the temps are a little chillier doesn't mean you have to pack everything up for the season. There are plenty of options to help you comfortably enjoy your backyard for the months ahead. Here are just a few fall patio ideas to help you do just that.
Build a Backyard Fire Pit
There are plenty of options here. While you can build a fire pit, you can also find less expensive ways to make it a reality. In this Done-In-A-Weekend Projects video, host Doug Scott shares how to create an outdoor space for a portable fire pit. Scott suggests adding fall patio decor—furniture and accessories, such as chairs, blankets or flower pots—to make it a personal extension of your home. For a complete fire pit, check out Today's Homeowner host Danny Lipford explaining how to make an easy DIY fire pit—complete with Adirondack chairs to accompany it!
String Patio Lights
Just because it's getting dark outside earlier doesn't mean you have to be hampered by it. Although there are many high-end lighting systems you could install, they usually come with a hefty price tag. Rest assured, there are ways to utilize lights to add backyard pizzazz without breaking the bank. In fact, lights are easy to string around a patio setting, along a fence or in trees. Here, Done-In-A-Weekend Projects host Doug Scott walks you through the DIY steps of stringing lights around a patio space.
Get Comfy
Whether you're watching sports with family, friends—or, solo—this fall, focus on these two things to make a comfy experience: pest control and climate control. In most areas of the country, pests will retreat as the temps dip. But if you're not so lucky, keep some citronella candles or patio torches on hand. When the air does start to get nippy, however, heat lamps—or, good old blankets— are the way to go.
Build an Outdoor Kitchen
Once your backyard's decked out with lights, an AV system, weatherproof TV cabinet, and a cozy outdoor gathering space, an outdoor kitchen area might be your next project. A great way to minimize "heating the outdoors" when walking in and out of the house, an outdoor kitchen island also helps keep everything nearby. And, while a cooler always comes in handy, you can also add a grill to your setup. In this Done-In-A-Weekend Game Day Tips episode, ESPN commentator and host Matt Stinchcomb outlines an easy, cost-effective, outdoor cooking island build.
Plant Fall Flowers and Native Trees and Shrubs
If you've put in the work to create a comfortable outdoor living space, then beautiful plants and greenery are also a nice way to extend your fall outdoor living. So, consider replenishing those containers and garden beds with a few chrysanthemums and cosmos or other like flowers that'll provide color through to the first frost. And, while you're at it, you'll likely want to plant a few pumpkins and fall squash, too.  Fall is also a great time to plant native trees and shrubs that can serve a dual purpose. Not only do they provide aesthetic enhancement, but they can also up your bird watching options by providing food and shelter for species that are migrating through—or, wintering in—your backyard.
More Fall Outdoor Living tips