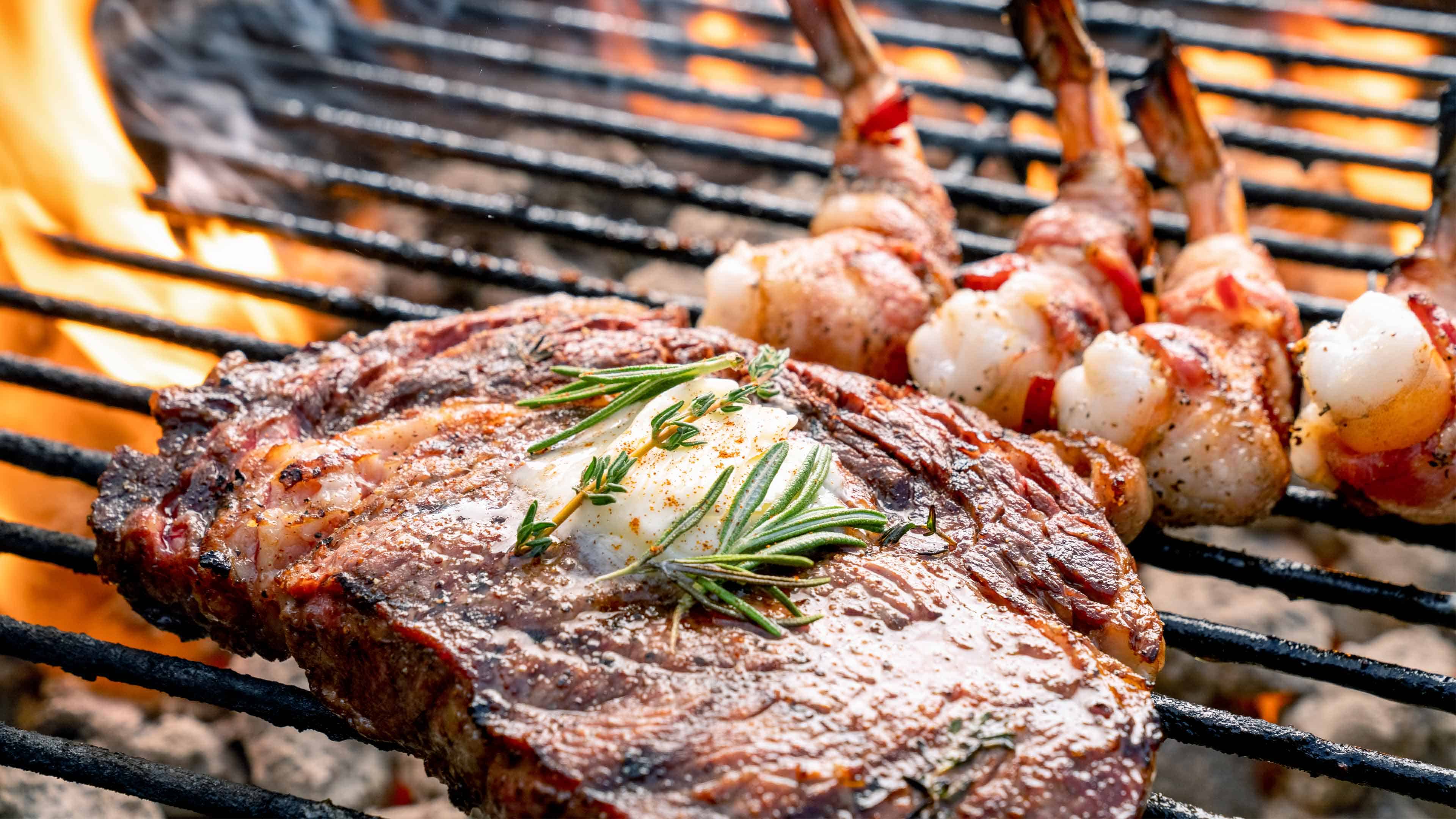 With so many of us cooped up at home these days, chances are you're searching for ways to make the most of your outdoor spaces. Like how to improve your backyard BBQ setup, for instance. While it's hard to beat a satisfying meal—like a grilled ribeye steak—from the comfort of your own back porch, it's important to use high-quality equipment right from the get-go. So, before you join Prime Cuts host David Bancroft to watch award-winning guest chef Kevin Nashan grill up a mouthwatering ribeye of his own, check out these backyard grilling setup ideas. Not only will they help hone your grill skills, but they'll take your end product to the next level, too.
Choosing an Outdoor Cooker
Grills, smokers, propane cook-tops, and fresh herbs, will all help you quickly and efficiently prepare whole meals in your backyard kitchen setup. So, read on for time-tested tips to maximize your backyard grill setup.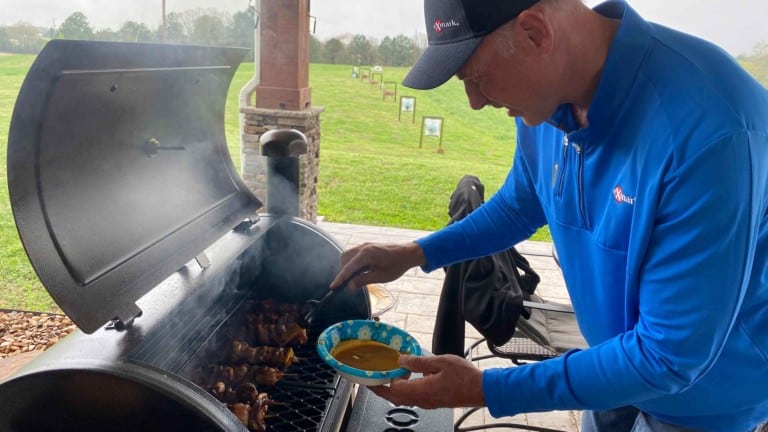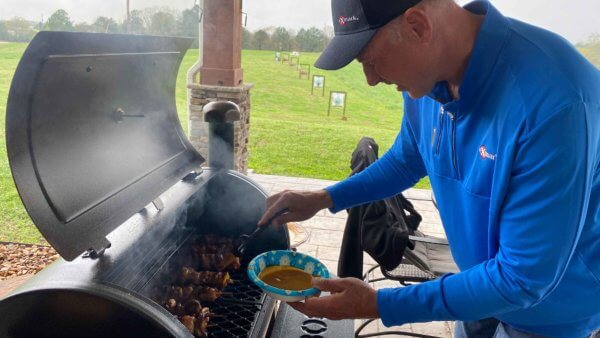 Gas Grilling
While charcoal grills have a certain charm, it's hard to beat the efficiency gas grills provide. Grilling burgers and hot dogs without first getting charcoal started—then keeping it hot—is, alone, a major convenience. And, improvements in burner design and flame control make it easy to slow cook meats like ribs or brisket, or quickly sear a steak or seafood. Finally, the generous cooking-area sizes available by some manufacturers provide ample room for serving family and guests, alike.
Charcoal Grills
Season after season, metal and ceramic charcoal grills remain a go-to for certain meats and the added flavor only hardwood lump charcoal can provide. The dome shape common to most kamado-style ceramic grills will allow you to cook steaks, roasts, and whole turkeys to moist perfection, thanks to the even heat distribution they produce.
Traditional kettle charcoal grills have been an outdoor grilling staple for over 50 years. Their lower cost—compared to kamado-style ceramic models—and added charcoal-starting efficiency found in chimney and electric charcoal starters, make them a great addition to any backyard BBQ setup.
Smokers
While some gas grills can do the trick, smokers are truly designed to deliver the ultimate backyard smoking experience. Smokers are grills, but they use smoke to slowly cook meat at a low heat over a period of time. Smokers are available in gas, electric, wood or charcoal models. Yet, most true smokers are outfitted with a water (or other liquid) container to keep meats moist throughout the cooking process.
Meats best suited to a true smoker are pork butts, spare ribs, brisket, whole chickens, and even fish like salmon. Adding a smoker to your backyard BBQ setup can help you become a more versatile backyard cook.
Pellet grills are the newest addition to the outdoor-cooking market. Touted as both a smoker and a grill, they're powered by electricity and fueled by pelletized wood. Pellet grills are known for a handful of specific advantages. For starters, they're easy to use. Pellets are fed into a hopper that then continually feeds and controls the pre-set temperature. They also provide a smoke flavoring to any meat or seafood. Finally, they shine at high-heat searing, and cook without smoke in the process. However, they may be more expensive to fuel than gas or charcoal grills, depending on your cooking style.
Gas and Propane Cooktops
Freestanding and built-in gas or propane cooktops are a great complement to any backyard grilling setup. Both work well for sautéing mushrooms, warming a side of beans, or even deep frying fish. They basically enable you to prepare an entire meal—including a variety of side dishes—outside. Some gas and pellet grills are available in side-burner models, which increases the cooktop's versatility. Numerous companies manufacture both freestanding and built-in grill and cooktop models that are specifically geared to outdoor grilling enthusiasts.
Additional Backyard BBQ Tips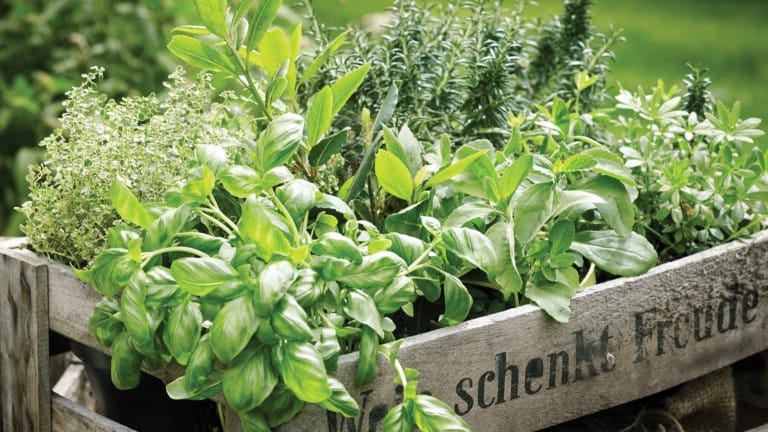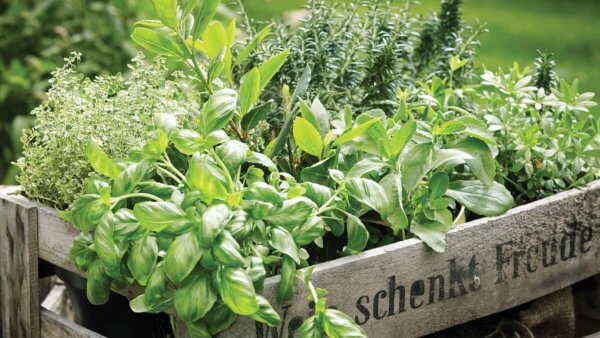 Utilize Fresh Herbs
Fresh herbs are a great complement to, and flavor enhancer for, virtually any dish prepared in a backyard grilling environment. You can have easy access to a variety of herbs by incorporating a small, above-ground herb garden, or attractive planters, to your patio setup. Most retail home stores offer some type of pre-built herb planters, and there are many DIY, above-ground planter plans available online. If you want to keep things simple, purchase attractive container planters large enough to grow several mainstay herbs in. When considering the type of herbs to plant, cilantro, basil, chives, oregano, parsley, and thyme are all great complements to any main grilling course, and are delicious when used inside dishes like casseroles, too.
Must-Have Backyard Grill Accessories
The most common grilling accessories people typically use include a good metal spatula, grill brush/scraper and meat tong. While these standbys will see the lion's share of use, a host of innovative tools designed to make backyard grilling easier—and keep grills in peak condition—continue to hit the market every year.
Instant-read thermometers take the guesswork out of preparing grilled foods at the correct temperature. They're available in a variety of several types and styles. Some really high-tech models can be inserted and left in the meat that attach either by a cable and monitored at the grill, or through Bluetooth or WiFi connection. Nothing like being able to monitor meat temperature from your living room or across town right?.
Grilling mats are another great grilling accessory. They're designed to lay on the grill rack, and some can handle up to 600-degree heat while keeping your grill grates clean, at the same time. Cooking vegetables, fish and seafood is never messy with these mats, and food won't fall into your grill. You can even fry eggs or bake on grill mats, and they're easy to clean.
Speaking of cleanup, the old standard grill brush is still alive and well, although an onslaught of enhanced cleaning tools are all the rage now, as well. Bristleless brushes—which don't leave wire pieces behind on your grill—and wood grill scrubbers—that form to your grill grates with use— have decreased the time and effort needed to clean messy grills. Finally, stone blocks—made of recycled glass—are another useful tool for cleaning both hot and cool grills.
Try These Crowd-pleasing Grill Recipes: