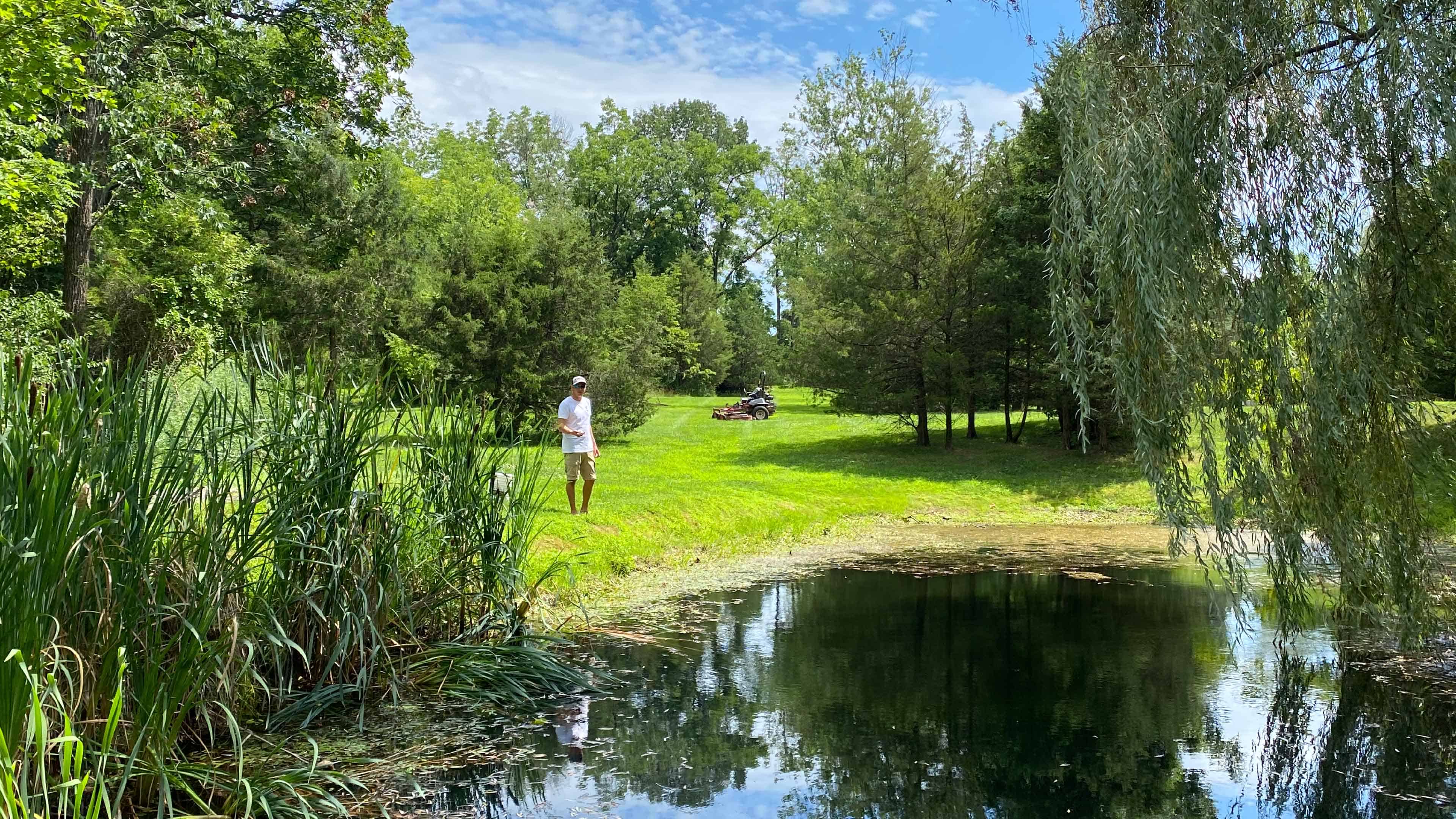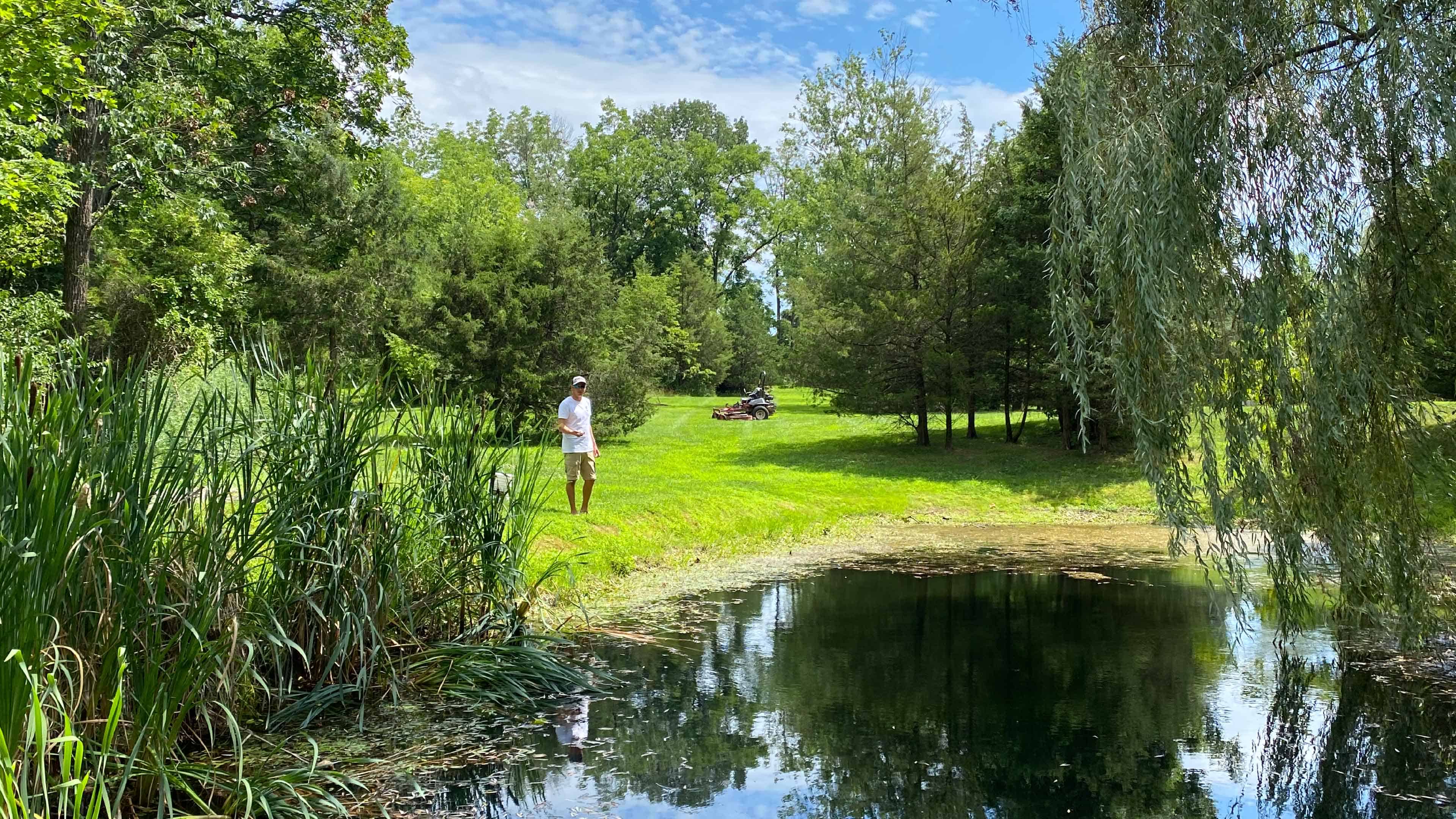 As the leaves begin to change color and the weather cools, it's time to consider fall pond care in preparation for the winter months ahead. Here, pro angler Grae Buck offers fall pond care tips that'll help ensure yours is properly prepped for winter. In doing so, you'll create a pond that's ecologically healthy and beautiful once the temperatures rise come spring. Below are Buck's top pond maintenance tips.
Clean Up Leaves
Limit the amount of leaves and other organic materials that enter your pond to reduce siltation and loss of pond depth. This can be achieved by leaving a buffer strip of higher grass around your pond to trap fallen and blown leaves. Or, set up a low fence to capture them. Routine fall leaf cleanup will help, as well. Both short and long-term, leaf buildup in a pond will cause excess nutrients, as well as muck buildup in the bottom of the pond. This affects both aquatic life and pond depth.
Add Beneficial Bacteria
Apply a beneficial bacteria product to your pond throughout summer and fall to help break down organic materials like leaves, aquatic plants, and algae that tend to accumulate. This natural treatment is safe for humans, pets and wildlife. Its purpose is to improve water clarity and the pond's ecosystem quality by accelerating decomposition of organic plant materials, sludge and excess nutrients. MicroLife Muck Out is one such safe and easy-to-use product that provides slow-release decomposition benefits. It comes in puck form, and can be simply tossed into a pond's primary areas of sedimentation.
Aerate
Install an aeration system to improve dissolved oxygen levels throughout the pond. This improves fish habitat and also promotes natural, faster organic material breakdown on the bottom of the pond. An aerated pond is clearer and has less algae, muck and odor, and an overall improved appearance. Aeration can be achieved through installation of a diffused aeration system on the bottom of the pond. Or, you can use a water fountain that circulates water on the pond's surface. Although a surface fountain doesn't mix the entire water column, it does provide additional dissolved oxygen. It also helps keep organic debris such as fallen leaves on the edges, making it easier to remove them. Aeration systems and fountains should be properly sized to the acreage of your pond. A good system—such as the 1 h.p. AquaMaster—can significantly improve a pond's water quality, overall appearance and year-round health.
Feed Your Fish
Provide an appropriate amount of fish feed (Buck opts for Purina brand) to your pond throughout the fall months. This will help your fish build up fat reserves to survive through the winter. But, don't overfeed your fish. Be sure to follow the suggested feeding amount to prevent excess sedimentation and algae growth resulting from excess nutrients in the water.
Follow Buck's recommended care tips this fall to help maintain an aesthetically and ecologically healthy pond all year long. (Oh, and also to give the fishing Gods something to thank you for!)