Late winter is a great time to take stock of your mower's maintenance needs. Doing so before the spring growing season will ensure it performs better while also ensuring that it will last longer and be more reliable over the course of its life.
You should always consult the owner's manual of your lawnmower to determine the machine-specific tasks that are needed. However, we have also developed this checklist of basic annual spring mower maintenance for power mowers. 
Spring Mower Maintenance Tips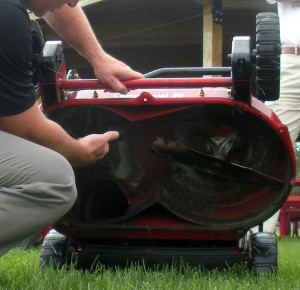 Thorough Cleaning: Starting with a clean mower will make it easier to perform other spring maintenance items. Use a strong spray of water. A putty knife can also help remove any grass caked on the underside of the mower deck. Clean the top of the mower as well, to get grass clippings, leaves, and other debris off the deck and out of crevices around the engine and wheels. Once it's clean, you can wax the deck to keep grass and dirt from sticking to it.

 

Sharpen the Blades: Your mower will cut faster and deliver a better quality cut with sharp blades. A few parts enhance cut quality and productivity as dramatically as sharp, balanced blades. With practice, you can change a set of blades in less than 10 minutes. It's well worth the time and effort. Get an extra set of blades to replace those that have lost their edge. This way, you'll always have sharp, balanced blades ready to go, and no downtime required for sharpening. This is one of the most crucial spring mower maintenance steps.

 

Inspect Engine Belts: Inspect all belts and replace any that appear visibly worn. Also, check all belt tensioners to ensure proper function.

 

Change the Oil: Start the season with fresh oil and filters. Oil is the lifeblood of your engine, and changing it routinely is much less expensive than paying for an engine overhaul.

 

Replace Spark plugs: Replace your mower's spark plug(s) at the start of the season to ensure easy starting and consistent running performance.

 

Fresh Fuel: If you left fuel in the tank over the winter, it should be drained and replaced with fresh fuel. Gasoline degrades in quality and can cause inconsistent starting and running performance. A fuel treatment or stabilizer can help the fuel stay fresh longer. Never use fuel that contains more than 10-percent ethanol in mowers, as higher percentage ethanol blends may lead to engine damage and/or performance issues.

 

Tires:  Check the pressure on all pneumatic mower tires and fill them to the recommended pressure indicated on the tire sidewall. Operating with too low of tire pressure is, first and foremost, a safety issue – it also compromises mower efficiency, performance, and handling.
Completing spring mower maintenance will ensure you are ready for cutting season. You'll be thankful you did!
More Lawn Care Tips: