Once you've created the lawn and outdoor living area you've always dreamed of, it's time to enjoy the fruits of your labor by having a little fun. In this Done-In-A-Weekend Projects video, we show you how to create two universally loved backyard game areas. Join our host and landscape designer, Doug Scott, to learn how to build a horseshoe pit and hook-and-ring toss game.
Backyard Horseshoe Pit Size
A "regulation" horseshoe pit requires stakes to be exactly 40 feet apart. The stakes should sit within a box that is at least 31 by 43 inches and measures no larger than 36 by 72 inches. Common horseshoe pit dimensions for backyard play are 36 by 48 inches. You can make only one box, but horseshoes technically involve two boxes: one for stakes and one for pitching. So in all, a 48-by-6-foot rectangular area must be set aside for the game.
Backyard Life Tip: Orient your pits in a north/south direction so that you can play comfortably all day.
Horseshoe Pit Build Materials:
(2) 36″ stakes
(2) 8′ 2×6 pressure treated lumber boards
1-2 bags of playground sand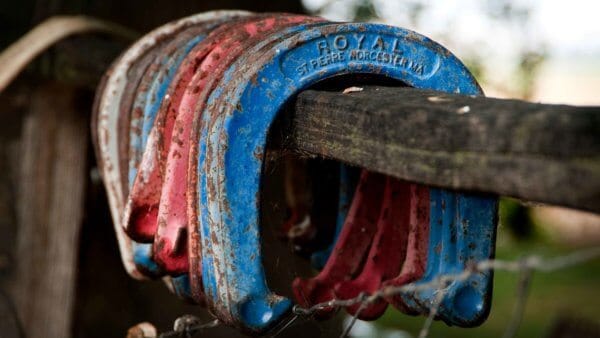 Steps to Build a DIY Horseshoe Pit
This is a Done-In-A-Weekend Projects. You will need about 1 day.

Steps to make a 48′ x 6′ backyard horseshoe pit.
Purchase a horseshoe set

Purchase a horseshoe set from a brick-and-mortar or online or retailer that's the right style and budget fit for you.

Select your playing area

Identify a level, low-traffic area in your yard that measures a minimum of 40 feet in length, with enough margin to move around. 48 feet by 6 feet would be ideal for two pits.

Anchor the stakes

Drive your two 36-inch stakes into the ground at a 12-degree angle from vertical towards the center of the playing area, and until 14 inches remain above ground. The horseshoe stakes should be exactly 4o feet apart. If things are too loose, you can weld a steel plate across the bottom of the stake to better anchor it.

Prepare the 'pit' area

Loosen the top 2 to 4 inches of soil around each stake. (Any deeper and the stake may not have good anchorage.

Create your pits

Create a 32"x45" pit area around each stake that is bordered by 2×6 pressure-treated lumber and lined with sand to minimize damage to your yard. You can also use landscape timbers as a border for your horseshoe pits.
Making a backyard horseshoe pit is an easy, inexpensive project that will provide entertainment for all ages—all season long. But, if you are looking for more family-friendly backyard game ideas, why not try adding a ring toss game area to your backyard as well. This DIY project uses minimal materials and can be within a few hours.
DIY Ring Toss Game Materials List
12"x16"x ¾" game board cut to your desired shape
Box of 4 ¾" exterior-grade screws
Two (2) pieces of strap material to affix it to your chosen tree
Hand or circular saw
5-foot telescoping rod or dowel
6- to 7-foot length of string
One (1) exterior-grade open hook
One (1) 2" welded ring
Steps to Build a Backyard Ring Toss Game
Drill an upward-slanting hole in the top of your pre-cut game board to receive your dowel, then screw the open hook into the center of the board.
Screw your strapping to the back of the game board, place the telescoping rod or dowel into position, and place the board on your selected tree (approximately 4 to 5 feet off the ground). Tie the welded ring to one end of your 6- to 7-foot length string and hang the ring on the open hook.
Extend the telescoping rod or dowel to a length that causes the string to begin picking the ring up while on the open hook. (Note: If using a dowel, you'll want to drill a small hole at the end of it for easier string adjustment.)
Unhook the ring and move it around to ensure that it can land on the hook. Make sure the string is taught, just as if it was being tossed or swung.
Once you have built your horseshoe pit and ring toss game, you will be well on your way to having the best backyard in town.
More Backyard Fun Ideas: