Most sports fans agree, few things liven up a backyard party quite like great-tasting food—especially when that food comes from the grill. In this Done-In-A-Weekend Game Day Tips video, ESPN commentator and host Matt Stinchcomb demonstrates a cost-effective outdoor kitchen solution. Learn the steps and materials needed to build an outdoor BBQ or grill island. After watching the video, be sure to download the PDF supply list and BBQ island build instructions.
We don't all have the space, time or money to have a full-on outdoor kitchen setup. But, there are ways to make an easy, cost-effective outdoor cooking island. Watch and learn how to transform your otherwise ordinary grill, smoker, and cooler into an attractive and cohesive part of your game-time gathering space!
Outdoor Kitchen Island Design Tips
The overall design and style chosen for this project was inspired by examples found on social media. So your end product may vary from ours based on your available space, and the specific grill, smoker, and cooler you'll be using.
Here are somethings to think about before you spec out your outdoor grilling island:
Safety first. Ensure your space complies with the grill manufacturer's specifications. This includes necessary details like clearances. If you will be building your space on a deck, don't forget to consider the weight of your materials. If weight will be an issue with your deck, you may want to consider a pre-built metal grill island.
Start with the basics. How will you get power, gas, and water to the grill location? What local codes will you need to consider? Will your outdoor kitchen be properly protected from the elements?
Functional zones. Be sure to plan for a hot zone (cooking), a dry zone (storage and prep), a wet zone (cleanup), and a cold zone (refrigeration, cooler, and bar). Traffic patterns and ergonomics are important—no one likes a crowded kitchen.
Know your budget. As with any DIY project, a successful and stress-free completion requires a plan and budget. Planning a budget helps you to get a realistic idea of the outdoor BBQ island that's right for you.
BBQ Island Build Materials
Our materials were purchased to specifically house a 46-inch tall x 62-inch wide x 23.5-inch deep stainless grill. The grill was paired with a medium-sized smoker and 54-quart stainless cooler.
Cedar structural posts
Cosmetic exterior slats used for the island's surround
Hardware to fasten posts and slats together securely
Other Outdoor Kitchen Considerations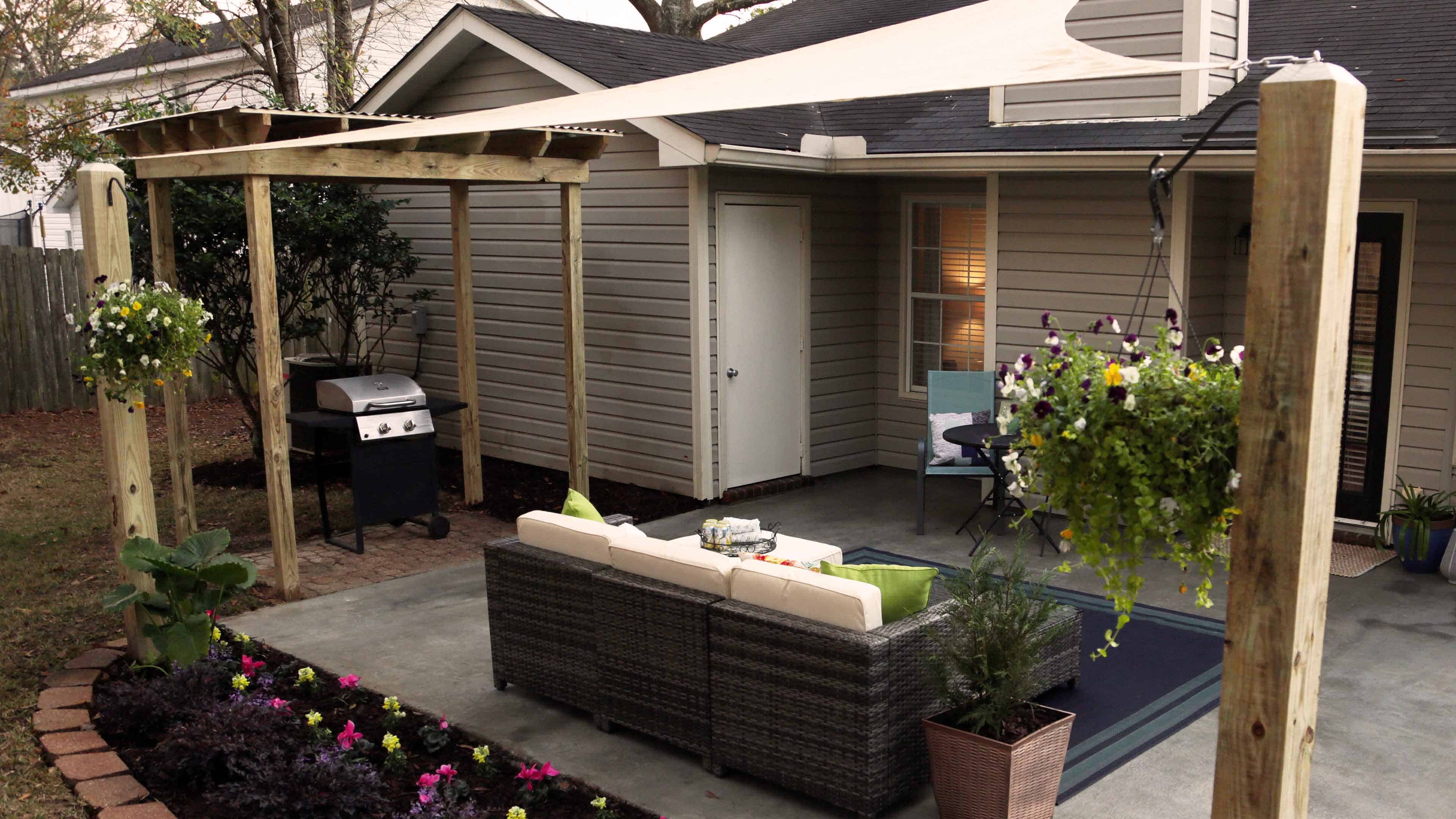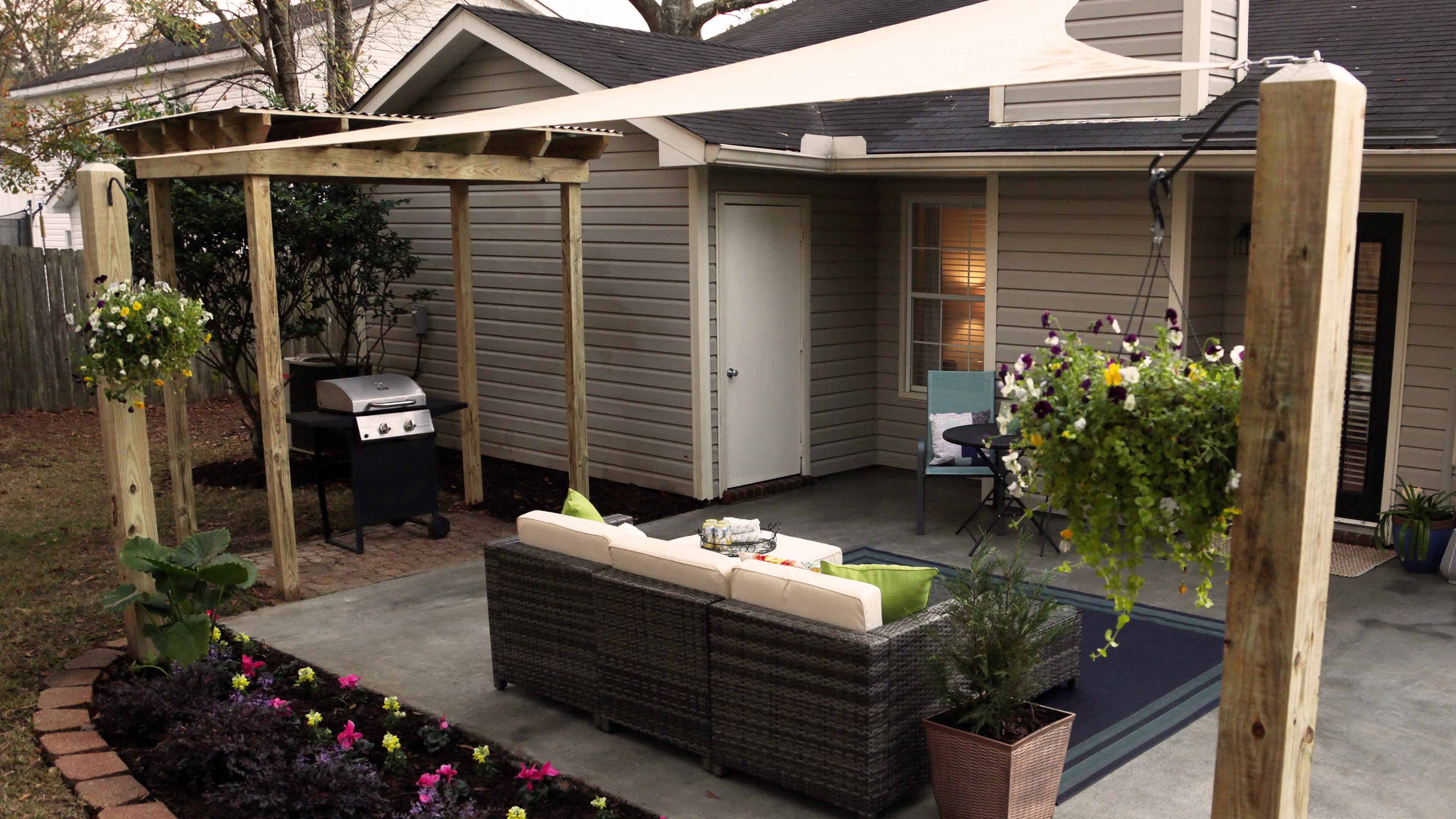 Regardless of your finished cooking island dimensions, be sure and allow for additional under-counter shelving space for storage. You may even want to build supplemental storage or counter space.
If appliances haven't already been purchased, you can find a wide assortment of grill and cooler options at most Big Box home-and-garden retailers. However, Stinchcomb recommends purchasing your smoker from a retailer that specializes in them and that stocks specialized parts and accessories you may need down the road.
Creating a cover for your BBQ island will allow you to grill outside in inclement weather. Deck and patio coverings to consider range from simple sail canopy installs to full pergola builds.
Download a detailed supply list and step-by-step outdoor BBQ island build instructions.
More Outdoor Living Ideas: