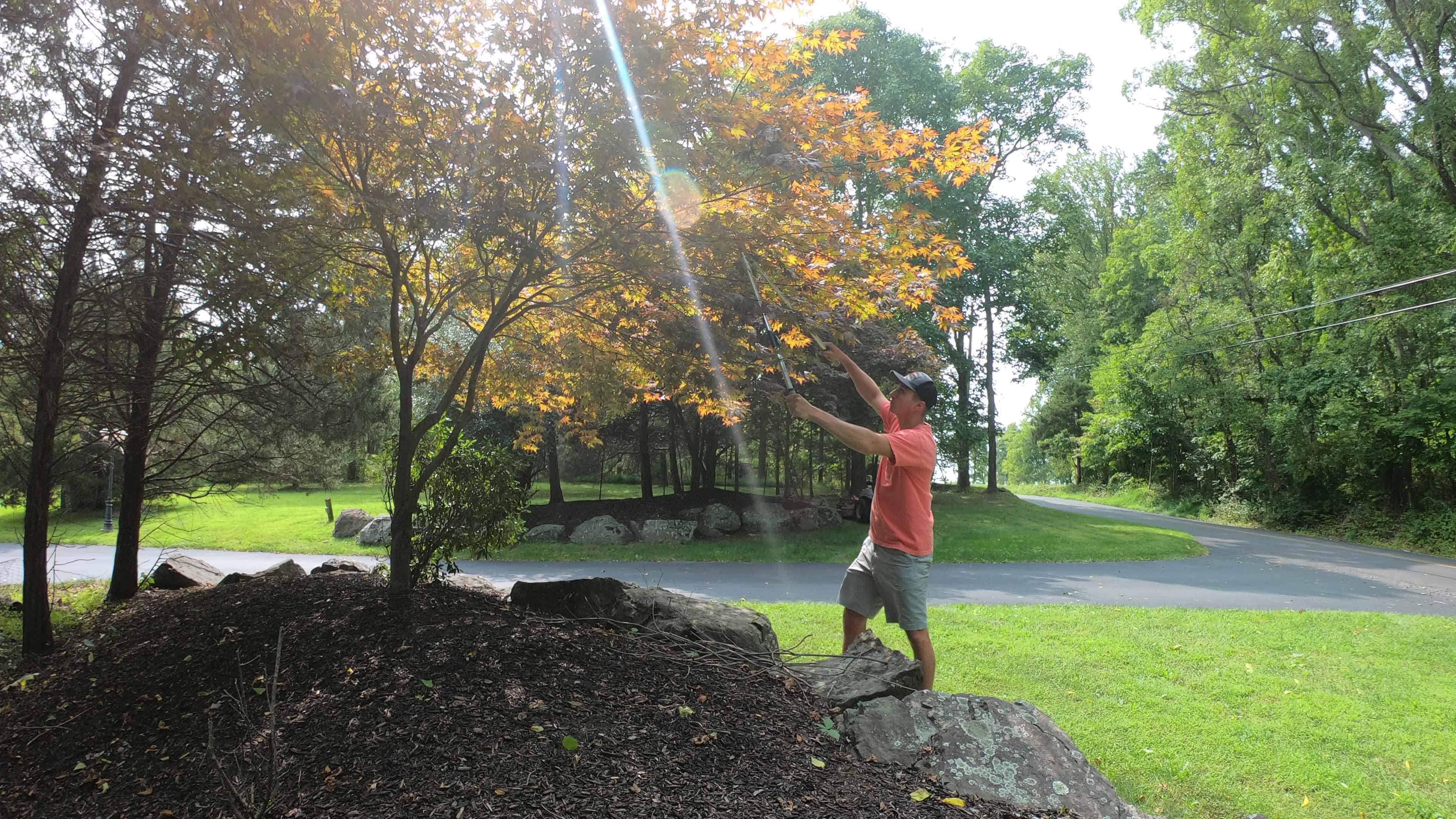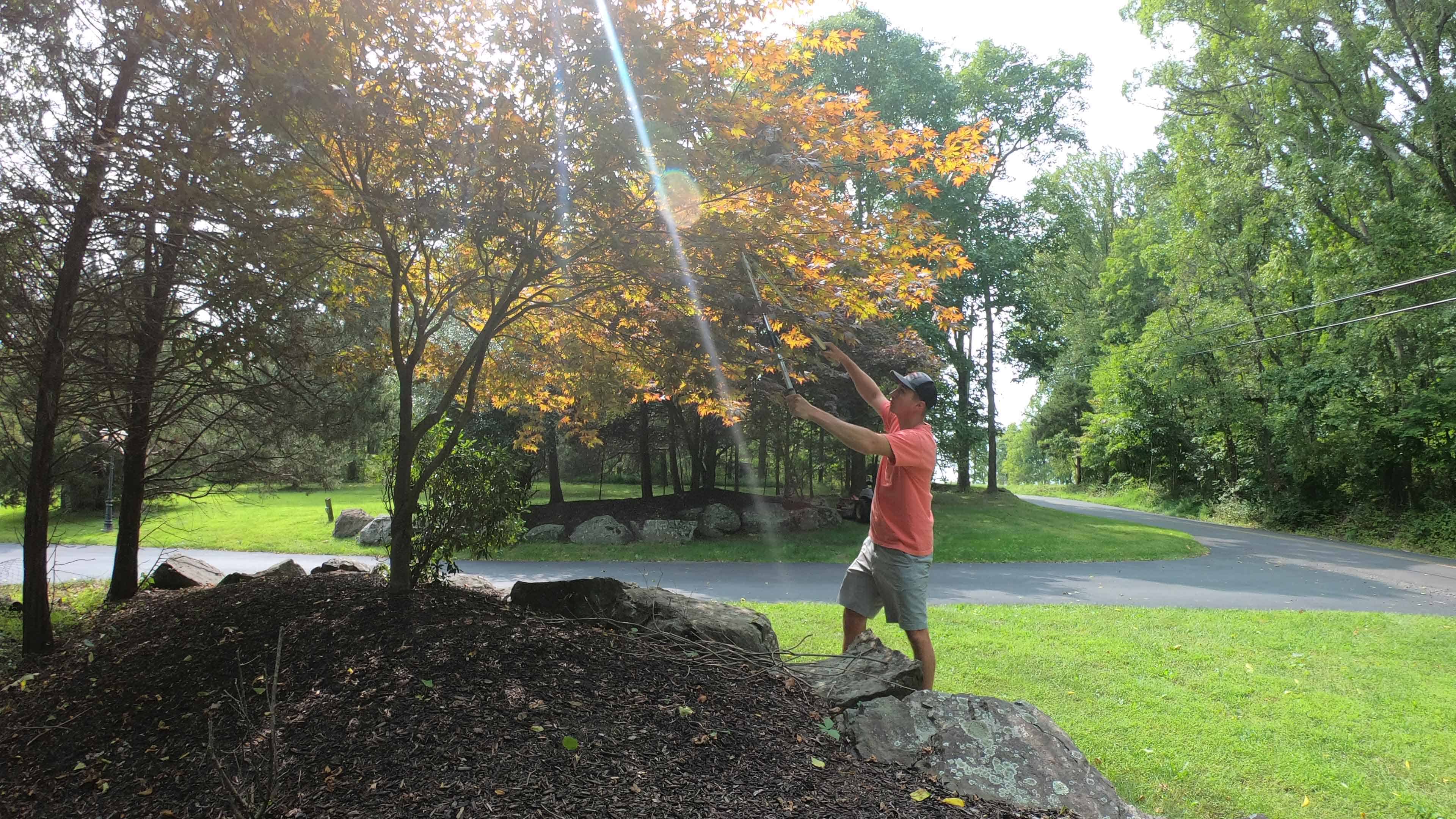 Fall Tree and Shrub Care
As leaves begin to change and the temperature drops, autumn becomes an opportune time to perform routine and supplemental maintenance to the trees and shrubs on your property. Below are several helpful tips from Grae Buck, for performing fall tree and shrub care before winter dormancy sets in.
Mulching around trees is a beneficial fall practice, as doing so protects their root systems from extreme cold and helps them retain moisture. If your trees are near the street, mulch also keeps harmful road salts out of the soil. Mulching with organic material supports soil microorganisms, as well, leading to a more productive soil come springtime. Mulch acts like a warm blanket, keeping the roots protected and warm, while preventing the soil from cracking, which, in turn, can lead to root damage and drought.
Water newly established or stressed plants (and all trees and shrubs, in general!) throughout the summer into the fall, even as temperatures drop. While less growth occurs during colder months, incorporating routine watering into your fall tree care helps to establish the plants and develop their root systems. It also serves as an insulator for the plant against cold temperatures. Water new plants every few weeks throughout the winter until the ground is frozen, as well. Take caution to not water when there is the potential for freezing. A good rule of thumb is 40 degrees Fahrenheit or above. Evergreen trees lose moisture through their needles and are susceptible to drought in the winter months. This is especially true during cold, dry, and especially windy spells. Routine watering in the fall is a helpful strategy to prepare the trees for winter. If you're watering evergreens throughout the winter months, avoid contact with the branches and needles so as not to harm the plant. It's best to water evergreens around their bases.
Protect your trees and shrubs from winter limb damage caused by snow, ice and deer browse.  Pruning and removing dead branches will help ward off injury associated with winter precipitation. And, it's also a smart strategy to protect your home from potentially costly tree-related damages. Fall's also a great time to prune because branches become more visible once leaves have fallen. Deer can also produce significant damage to trees and shrubs in the wintertime when alternative forage is less available. Tree protection options include cages or tubes to protect trunks and branches within reach, or commercial repellents that discourage wildlife browse through a deterring odor.
Fertilization is another ideal maintenance practice for fall tree and shrub care. With cooler, wet weather comes increased root growth and nutrient uptake. Fall plant fertilization is a great way to replace essential nutrients that may have been depleted during summer growth, it also helps prepare trees for leaf-out and blossoming in the spring.
While trees and shrubs remain dormant during the winter, proper seasonal care leading up to, and throughout, these cold months will ensure beautiful, productive springtime plants.
More Fall Yard Maintenance Tips: