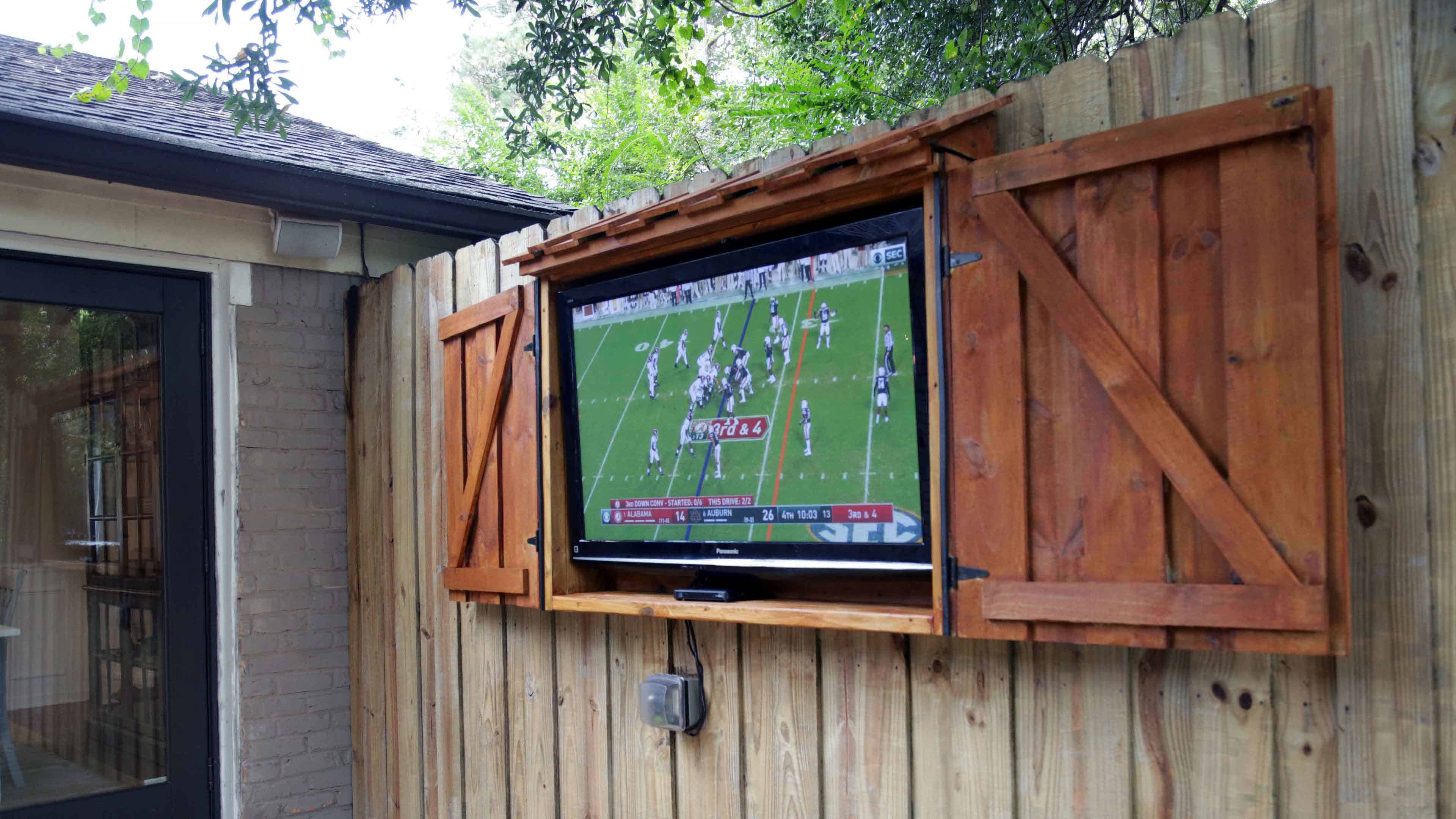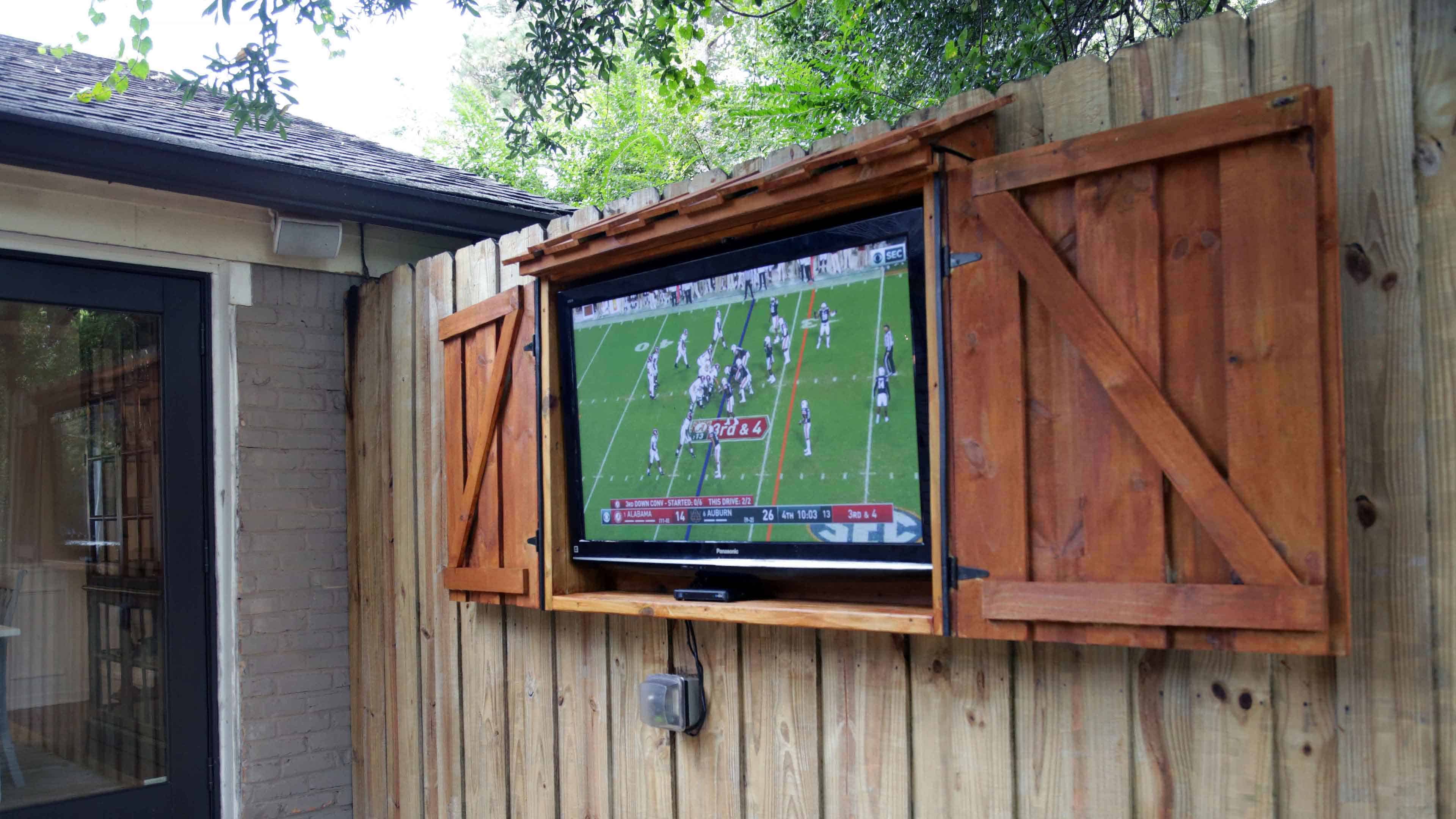 In this Backyard Life video, join Today's Homeowner host Danny Lipford as he explains how to build a DIY outdoor TV cabinet. As Lipford explains, more people than ever understand that their home doesn't end at their back door, but extends outside onto their deck, patio and yard. And, they want to make the most of the space to better enjoy backyard living.
It doesn't take much to improve backyard life, explains Lipford, and progress usually comes in stages. The kinds of changes most homeowners make are based on their home improvement budget, and how much time they actually spend outside.
First, you start with the basics, like adding a patio, grill or dining set. Then, you add some enjoyable extras, like a fire pit and lounging chairs. Finally, you install amenities like retractable screens and misting systems to make the area more comfortable.
Before you know it, you're spending as much time outdoors as you do indoors! And, that's a great thing, because fresh air is actually cleaner than the air inside your home.
What you end up adding to enhance your backyard life more enjoyable depends on your lifestyle, and your household's unique needs. That said, there are some emerging trends that seem to be lasting ones. Adding an outdoor TV enclosure is something that frequently comes up as a must-have improvement for your outdoor living space.
Why Build a DIY Outdoor TV Cabinet
One of the most popular items on any backyard wish list is a DIY enclosure for an outdoor TV. This piece of furniture comes in handy whether you host football parties and movie nights, or just want to enjoy your favorite show in an open-air setting.
Creating an outdoor TV cabinet also expands your options where entertaining's concerned. Let's face it, living room space is usually limited, and you often can fit more people in your backyard, or on your patio, to comfortably watch a big game.
Steps to Build an Outdoor TV Enclosure
A decent wooden outdoor TV cabinet costs $400 to $600 online, or you could build a DIY version for a fraction of that. If that price is out of reach, or if you're like Lipford and wonder, "Why buy it if you can build it?" the choice is easy. Here's how to get started.
DIY Outdoor TV Cabinet Materials
1/2-inch pressure-treated plywood
Pressure-treated 2-inch x 6-inch boards
Pressure-treated fence boards
Peel-and-stick roofing starter strip
Galvanized nails
Deck screws
Gate hinges
Wood stain
TV mount
Level
Drill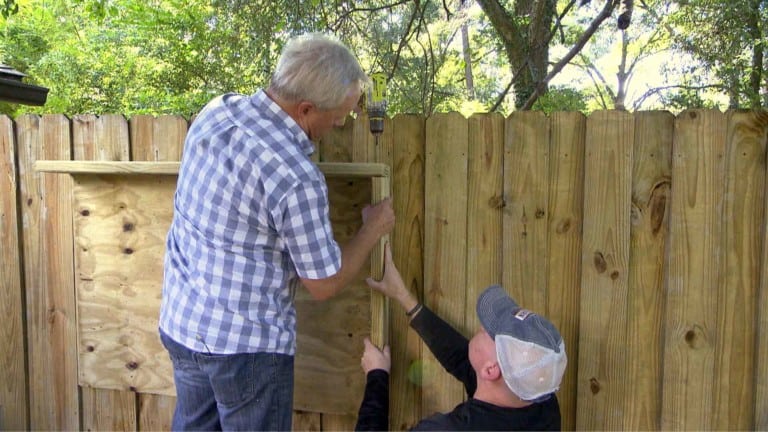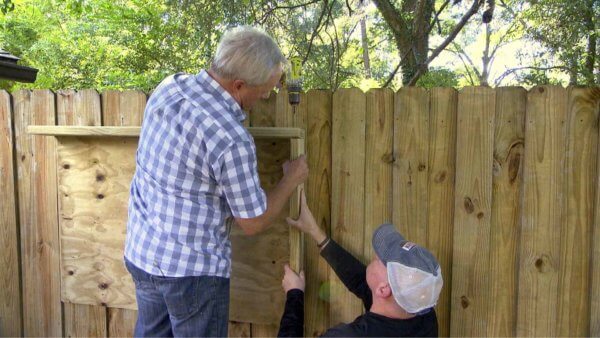 1. Install the Framework
Use a level to mark your cabinet location and install a piece of 1/2-inch pressure-treated plywood on that surface. Your TV's size will determine the cabinet's dimensions; allow a few inches of extra space on each side of the plywood.
The TV cabinet's location is usually an exterior wall beside the patio or deck, but it could also be a nearby fence. Wherever you decide to install it, make sure the surface is sturdy and can support the weight of both the TV and its housing.
Next, attach pressure-treated 2 x 6s to either side of the plywood. To do this, drive coated deck screws into the surface at an angle. A deeper TV may require wider material, but 2 x 6s should work for most flat-screen displays.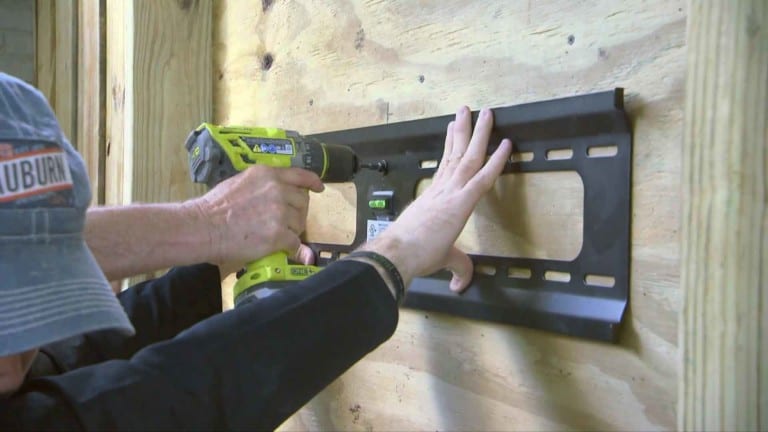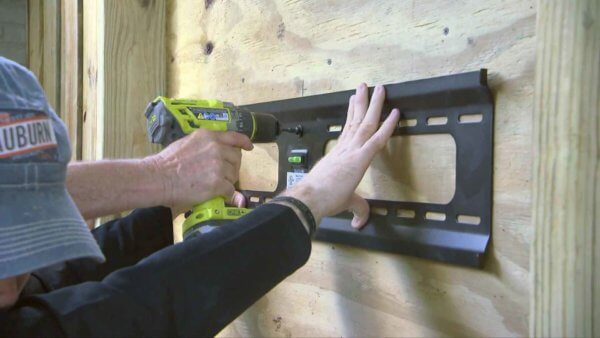 2. Install the TV Mount
Install the TV mount on the plywood following the manufacturer's instructions. Allow some space for the TV to hang on the rails.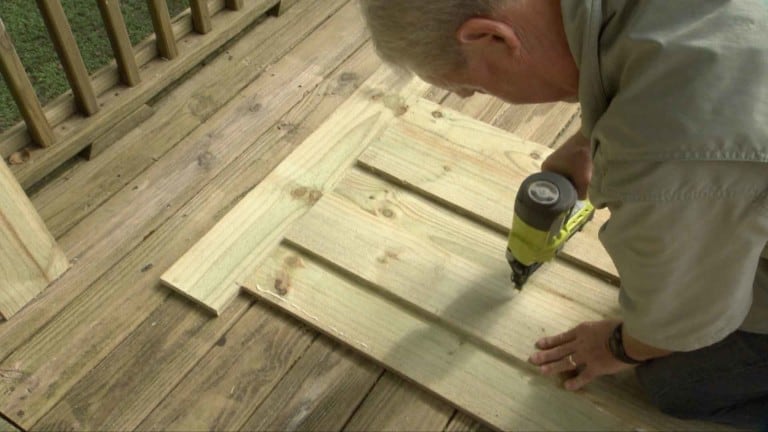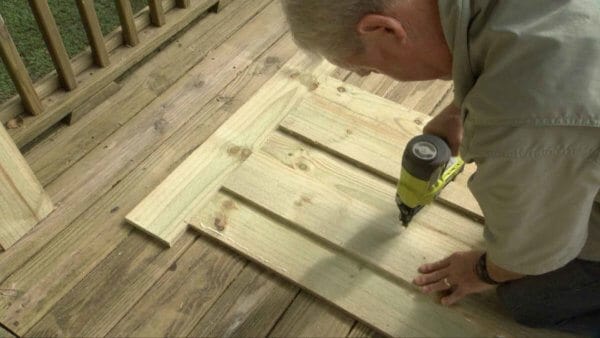 3. Build the Doors
Lipford creates the doors from pressure-treated fence boards, overlapping each other by about an inch. In doing so, he mimics the pattern of the fence behind the cabinet.
He then secures everything together with waterproof wood glue and galvanized nails.
Finally, on the back of each door, he attaches a horizontal piece at the top and bottom, with a diagonal piece running between the two boards to add strength.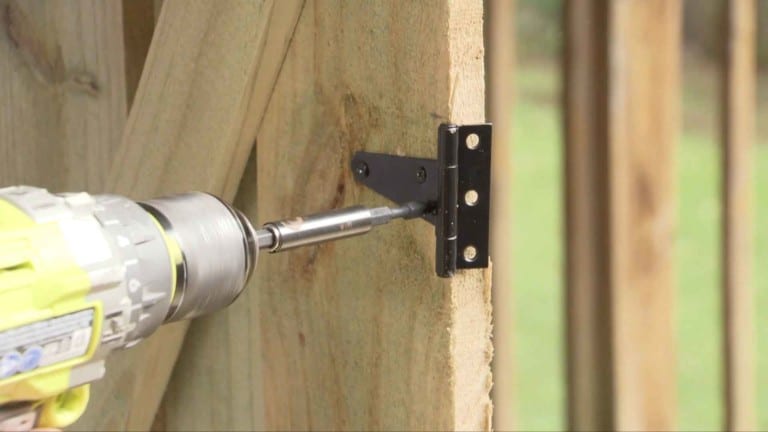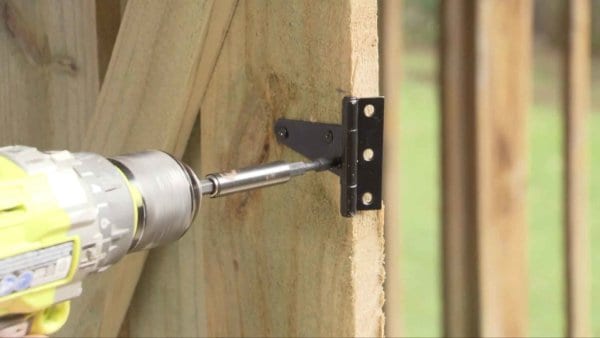 4. Attach Doors to Cabinet
When it's time to attach the doors to the cabinet frame, enclosing this frame couldn't be easier, explains Lipford. Just use ordinary gate hinges that can be purchased at a home-and-garden center, and follow the manufacturer's installation instructions.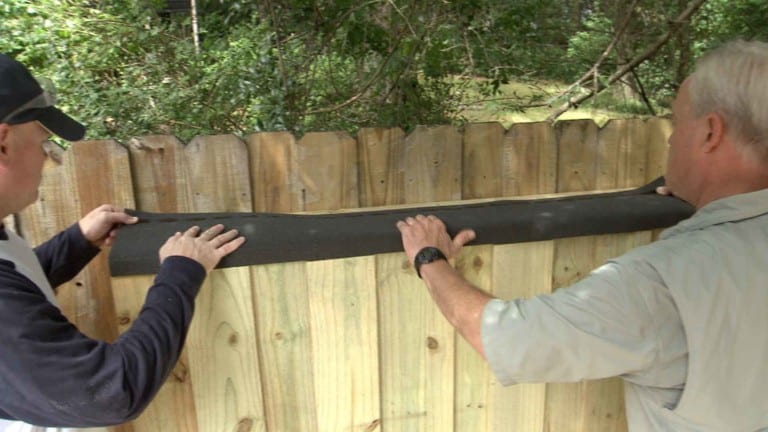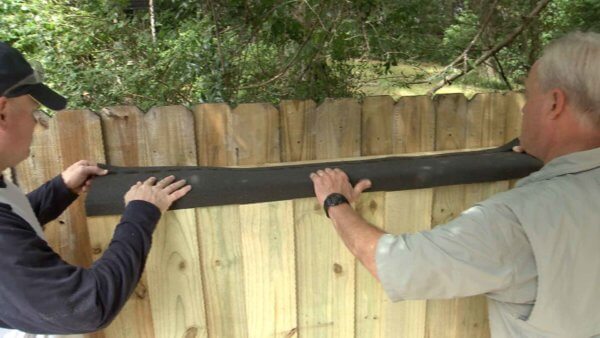 5. Waterproof the Cabinet
Shielding your outdoor TV cabinet from rain is necessary to prevent damage to the device—and electrical shock to you.
Indoor TVs aren't designed for outdoor use and installing one outside likely will void your warranty, as well as shorten the television's life. Your best bet is to purchase a waterproof outdoor TV, which is usually twice as expensive as an indoor model, but provides peace of mind. Or, you can purchase a waterproof TV enclosure that helps the device withstand extreme temperatures and precipitation. For more outdoor AV tips, check out this Done-In-A-Weekend Projects video.
As for keeping rain out of the TV cabinet, Lipford applies some peel-and-stick roofing starter strip to the top. It will overlap the front edge.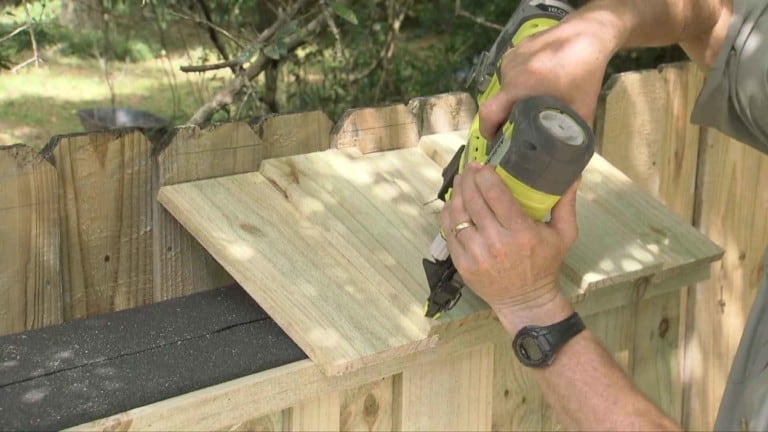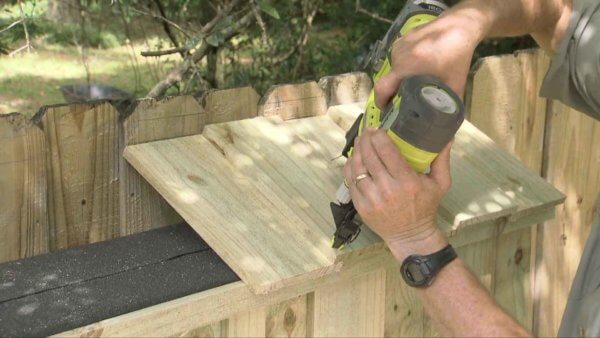 6. Add a Roof
To add character and extra overhead protection, Lipford creates a shed-style cabinet roof with a strip of the fence material.
In addition, he uses scraps from the fence boards to, once again, add 1-inch overlap patterns to mimic the nearby fence. The effect drives home the fact that this cabinet is definitely a house for the TV!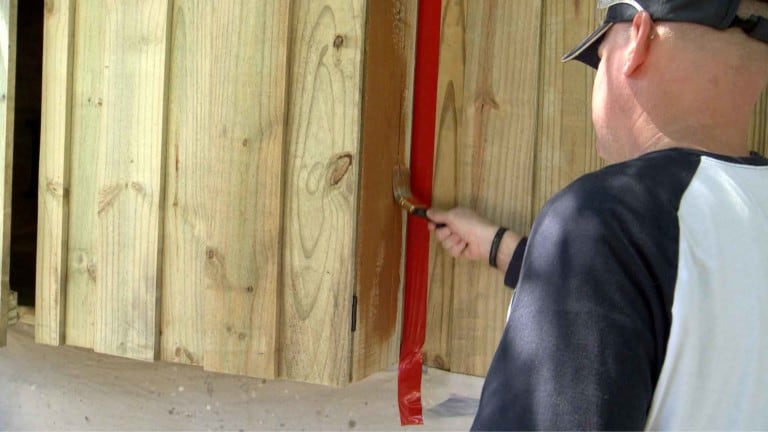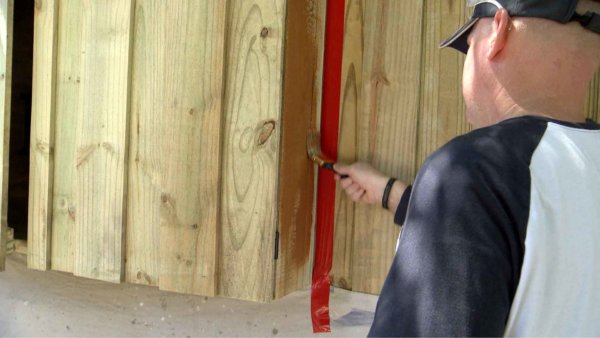 7. Stain the Cabinet
Outdoor furniture faces wear and tear from year-round exposure to the elements, and a TV cabinet is no exception. It'll take a beating from sun, rain, hail, humidity, snow and whatever else Mother Nature throws at it. So, you'll need to coat the cabinet with stain to protect it.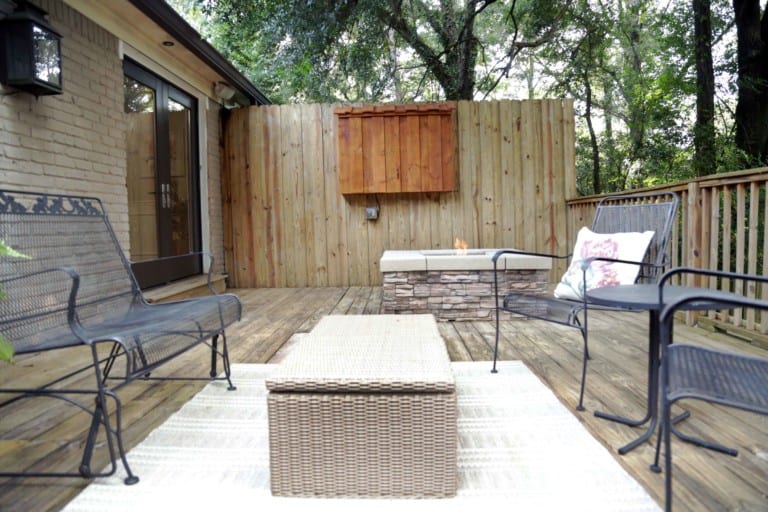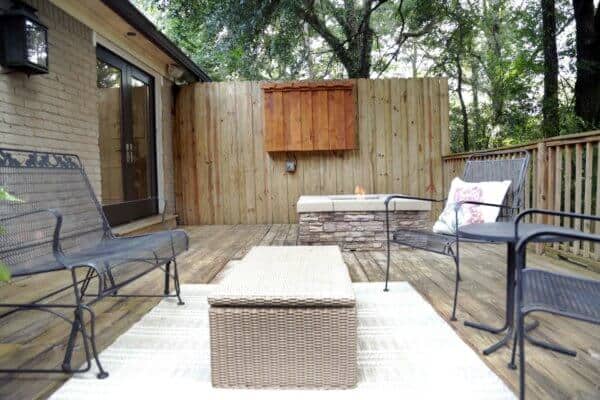 Visit your local home-and-garden center to choose the best stain for your cabinet. It usually boils down to color and transparency (ow much of the wood grain you want to see).
Once you've stain the cabinet, let it dry, mount that TV and tune into that can't miss show or sporting event!
Finishing Touches
Just because you're done creating your DIY outdoor TV enclosure doesn't mean you're all done. Decorating is key to making sure your space is homey and enjoyable for everyone. Whether you plan to watch sports or the Puppy Bowl, you're going to want some plants, some lights, and some seating.
Throw pillows, backyard furniture, and even candles or torches can go a long way towards creating a warm and welcoming environment. And the best part? The cozier you make it, the longer into the year it can last you!
Other Outdoor AV Solutions
Maybe you're hosting a pool party, maybe you're trying to get a huge group of friends over for a massive game day in your backyard. Whatever the case, creating the optimal outdoor AV situation is key.
If you're looking for some alternate AV solutions, we've got you covered. From projectors to inflatable screens, there's something here you can try out until you find the best possible option for yourself and your backyard area.
More Backyard Entertaining Projects: