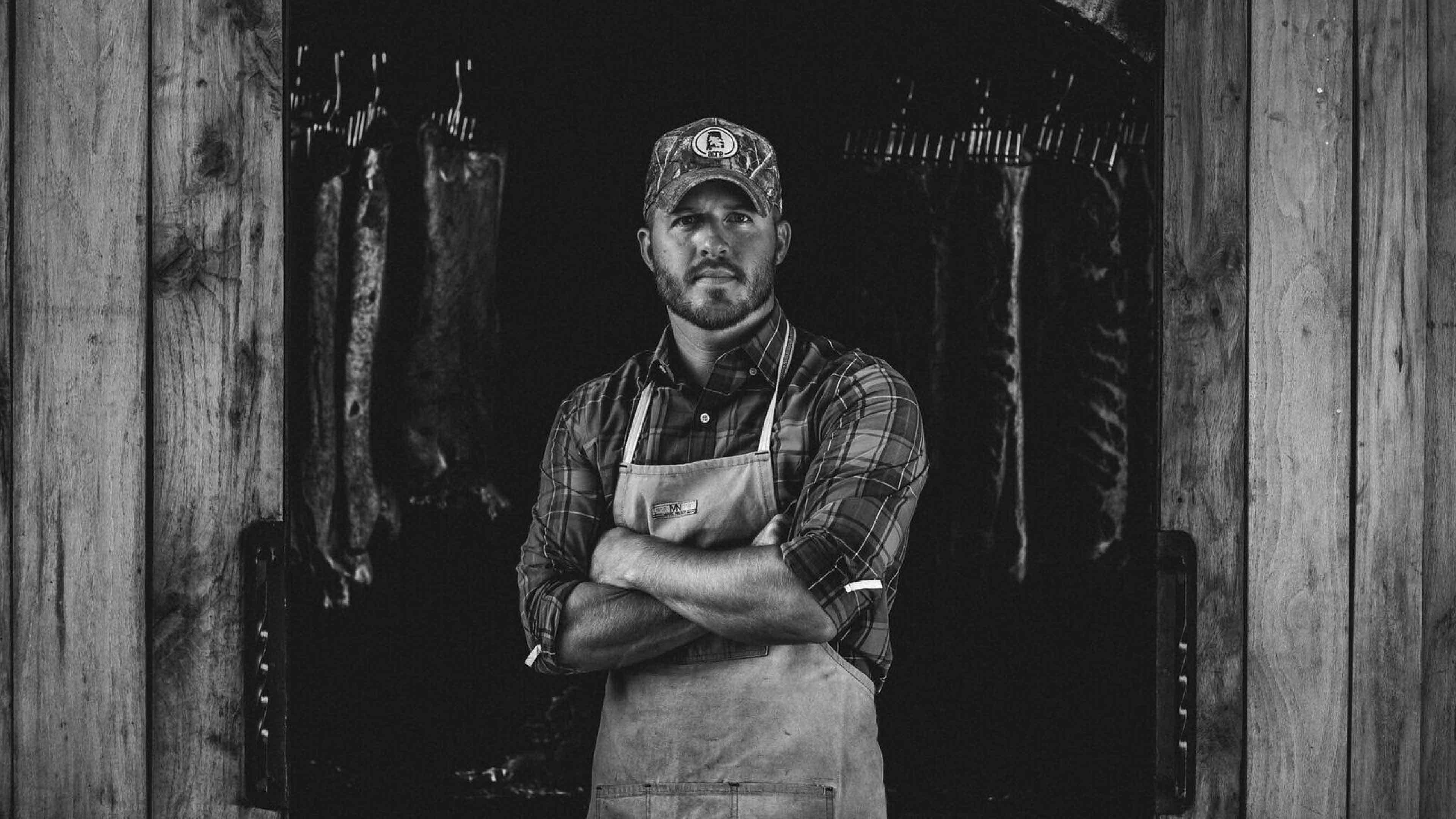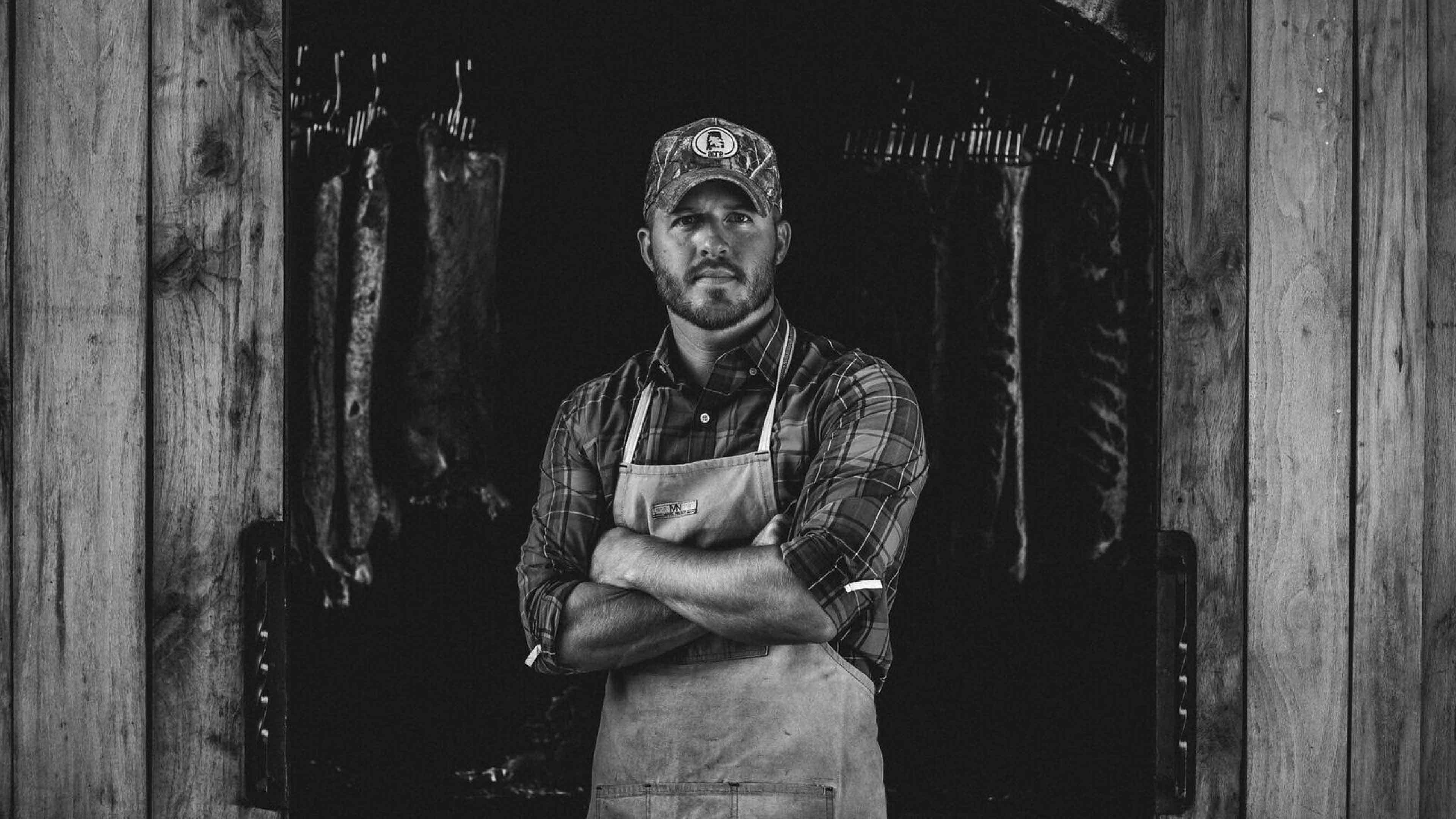 Prime Cuts host and award-winning chef David Bancroft is owner of the renowned Auburn-based Acre Restaurant and Bow & Arrow Barbecue. Sit in as Bancroft shares what life looks like when he's not busy with his culinary ventures.
Backyard Life: Tell us a little about where you live, your family, and what you do for work that relates to your love of the outdoors and a backyard lifestyle?
David Bancroft: My wife Christin and I live in Auburn, Alabama with our son Walker (8) and daughter Kennedy (7). We also have two dogs: A rescue named Toodles and an English Cream Golden Retriever named Dolly. I'm an avid outdoorsman and enjoy taking my kids fishing at a nearby pond, whenever possible. My son Walker has recently become passionate about whitetail deer hunting and joins me in the woods whenever he can. Beyond the fact that he loves our homemade deer jerky, it's a great opportunity for me to show him the respect and value that must be paid to any animal we're fortunate enough to harvest.

I opened our first restaurant, Acre, in 2013, with a focus on farm-to-table Southern food. It sits on one acre of land in downtown Auburn, and has three onsite gardens. Our team enjoys spending time tending to them throughout the year, and then using the produce in our many dishes and specials.

Our other restaurant, Bow & Arrow, is a Texas smokehouse highlighting the cuisine of my childhood in San Antonio. In addition to a wide array of smoked meats such as brisket, turkey and sausage, we offer Southern sides, fresh tortillas, and a condiment bar with 12 different house-made sauces and toppings.
BL: What is unique or special about your property, or where you live?
DB: Auburn is a beautiful college town, and is in close proximity to Chewacla State Park. We have access to its walking and hiking trails, as well as a pond behind our house to catch small fish in.
BL: What role does food play in your backyard living?
DB: I'm not sure there's anything more nostalgic than the smell of hamburgers and hot dogs on the grill, especially in the summer. It's also been a way for us to connect with our new neighbors through casual conversations over the grill and picnic table while the kids have had the opportunity to play.
BL: What is special about Southern cooking?
DB: I grew up in San Antonio, but spent many summers on my grandparents' farm in Hartford, Alabama. My Mama Jean was famous for her long family table set with reused Cool Whip tubs (if you know, you know!) filled with fried chicken and cornbread. Southern food is unpretentious, yet requires a certain level of skill that can only be taught by repetition and time spent in the kitchen. This includes things like how to properly use a cast iron skillet (and how to keep it seasoned), knowing how long to knead dough for Memaw's chicken 'n dumplings, when to stop beating the egg whites for your chocolate pie meringue, and when you have just the right amount of sugar in your sweet tea.
BL: Can you describe your outdoor grill, patio (outdoor kitchen) set up for us?
DB: We have a fairly large backyard with outdoor seating, a Big Green Egg and a barrel smoker.
BL: Do you have any tips for creating/hosting a successful outdoor dinner gathering?
DB: For starters, check the weather! We love to entertain and have hosted many events at our home since we moved here in April 2018. We always make sure the patio is swept off, a citronella candle is lit, and there's adequate seating for everyone. Access to beverages is also important, so we usually keep a cooler handy outside. Lastly, we always have some music—or ESPN!—playing in the background.
BL: Describe your perfect backyard afternoon?
DB: My favorite backyard afternoons have been spent with some steaks on the grill, a glass of Cab with my wife, and our kids running through the sprinkler and playing with the dogs.
BL: What's your favorite meal to throw on the grill? And, are you willing to share the recipe?
DB: My go-to grill grub has to be ribs! I'll be glad to share my recipe for the ribs I made on Iron Chef Showdown back in 2017. They must've been good because I won my battle against Iron Chef Jose Garces!