A behind the scenes look at the food prep behind our Prime Cuts: Grilled Ribeye episode.
Join Prime Cuts chef David Bancroft at the prep table as guest chef Kevin Nashan discusses how he selects, cuts, and pre-seasons his steak, as well as how he concocts and shapes his homemade tater tots. Finally, get the inside scoop on the unique ingredients that go into his "sauce gribiche" (a.k.a. good-old egg salad) and mustard-seed condiments.
Hungry for more? Watch the all the Prime Cuts episodes to see more finished recipes
In the words of grilling expert David Bancroft, "Nothing brings people together quite like food. And, there's nothing like preparing it in the comfort of your own backyard."
In this Backyard Life video, we join Bancroft on the set of Prime Cuts. He and guest chef Kevin Nashan are cooking Nashan's grilled ribeye, cabbage and tater tots recipe. (Yes, that's right, we said tater tots.)
Getting Ready for Ribeye
David begins by asking Chef Nashan his grilling secrets. And, for him, it's all about two things: the heat of the grill and the cut of steak. "Keep it simple," Nashan explains as he seasons his center-cut ribeye with salt and pepper: "Really hot grill. Really good sear. Finish it off in the oven."
Nashan offers up some other great tips, too. Like referring to coating the grill with grapeseed oil to prevent sticking his "insurance policy." And, while he's all about keeping the grill ultra-hot, he also says heat management is key. He likes to keep the back are the hottest. From there you can "get to know your grill," and place different parts of the meal on the right places for optimum cooking. Almost like cooking with a heath.
"The common trend here with cooking in the backyard is confidence. Get confident with your vessel. Know your hot spots, know your cold spots." Bancroft explains. And, Nashan agrees.
After they've cooked the ribeye for 10-12 minutes to a perfect medium rare, they're ready to let it rest as they move onto sides, starting with grilled cabbage.
It may sound strange, but Bancroft and Nashan jokingly explain that Napa Cabbage "filets" stand up well to grilling. It's actually part of the Horseradish family, creating a perfect side for this grilled ribeye recipe.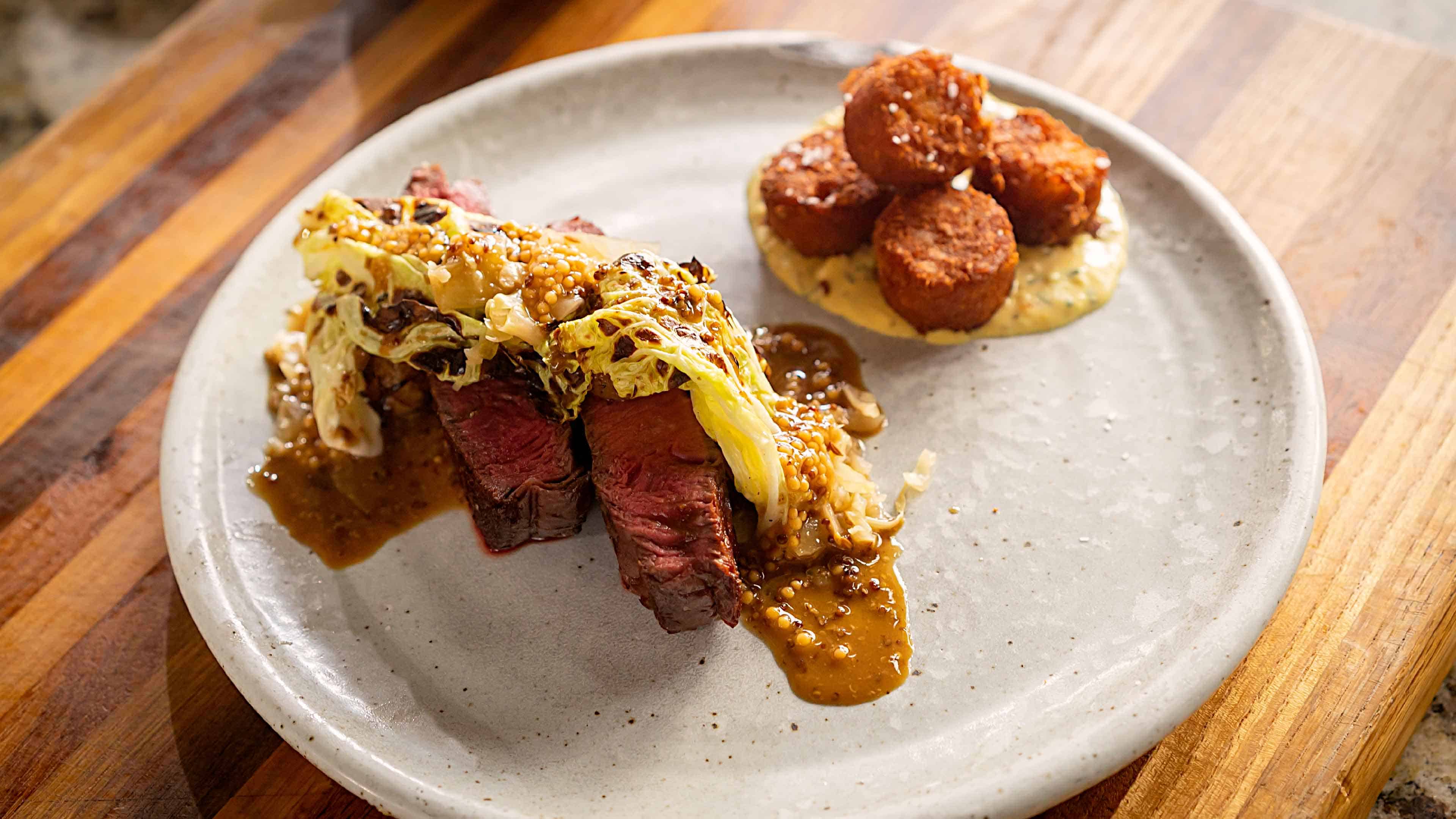 Time for the Tater Tots
But, you won't find Nashan's coming out of a freezer bag. These scratch-made tots are easy to make with some mashed potatoes and a kick from your favorite chilis. And, they're easy to fry, too. All it takes is a pot of your favorite oil; just make sure it has a high flash point and a neutral flavor (Nashan likes grapeseed or peanut). Once the oil is at 350, you're ready to go. Just when it seems this grilled ribeye recipe couldn't get any better, Nashan takes it to the next level!
He walks Bancroft through caramelizing cippolini onions until they're sugary sweet, and how to make a savory, fancy egg-salad called "Sauce Gribiche." There's also a delicious-looking mustard jus that's easy to create at home.
Finally, Nashan's ready to plate. He slices the ribeye steak thin, pulls the homemade tater tots out of the fryer, and layers on all the sides. This dish can only be described as mouthwatering—and perfect for any fall backyard grill out! If you can't wait to try out this amazing grilled ribeye at home, don't worry. Here's the ingredients and outline for the tater tots and sauces, below.
Prime Cuts Tater Tots, Sauce Gribiche and Mustard Jus
Watch Prime Cuts:
Want insider access to more prep videos and grilling recipes? Then, start your FREE Backyard Life e-news subscription, today! Simply sign up (below) and we'll notify you when this—and other bonus content—is waiting in your inbox.