Whether you're using firewood to heat your house or for a backyard fire pit, it's good to know how to store firewood. Luckily, it's one of Mike Morgan's favorite things to talk about. In this Backyard Life video, the host of Youtube's Outdoors With the Morgans shares the best ways to store firewood.
How not to Store Firewood
Pointing to a huge pile of firewood on his property, Morgan starts by saying this is not the best way to store firewood. The reason? The wood in the center of the pile doesn't dry well. It's not getting good airflow or sunlight and so won't season buried down in the bottom of the pile. So why does Morgan have this big pile of firewood? This is his overflow and the wood that he sells.
Morgan has a log splitter set up at the bottom of the pile. This is next to a conveyor belt that transfers the chopped wood to the top of the pile. To help this wood dry, Morgan periodically uses his tractor to stir up the pile by moving logs from the center out to the sides. Ultimately, he says, the best solution is to get this firewood to customers early. Then, they can stack it where it can get good airflow and finish off the seasoning so they have good, dry firewood.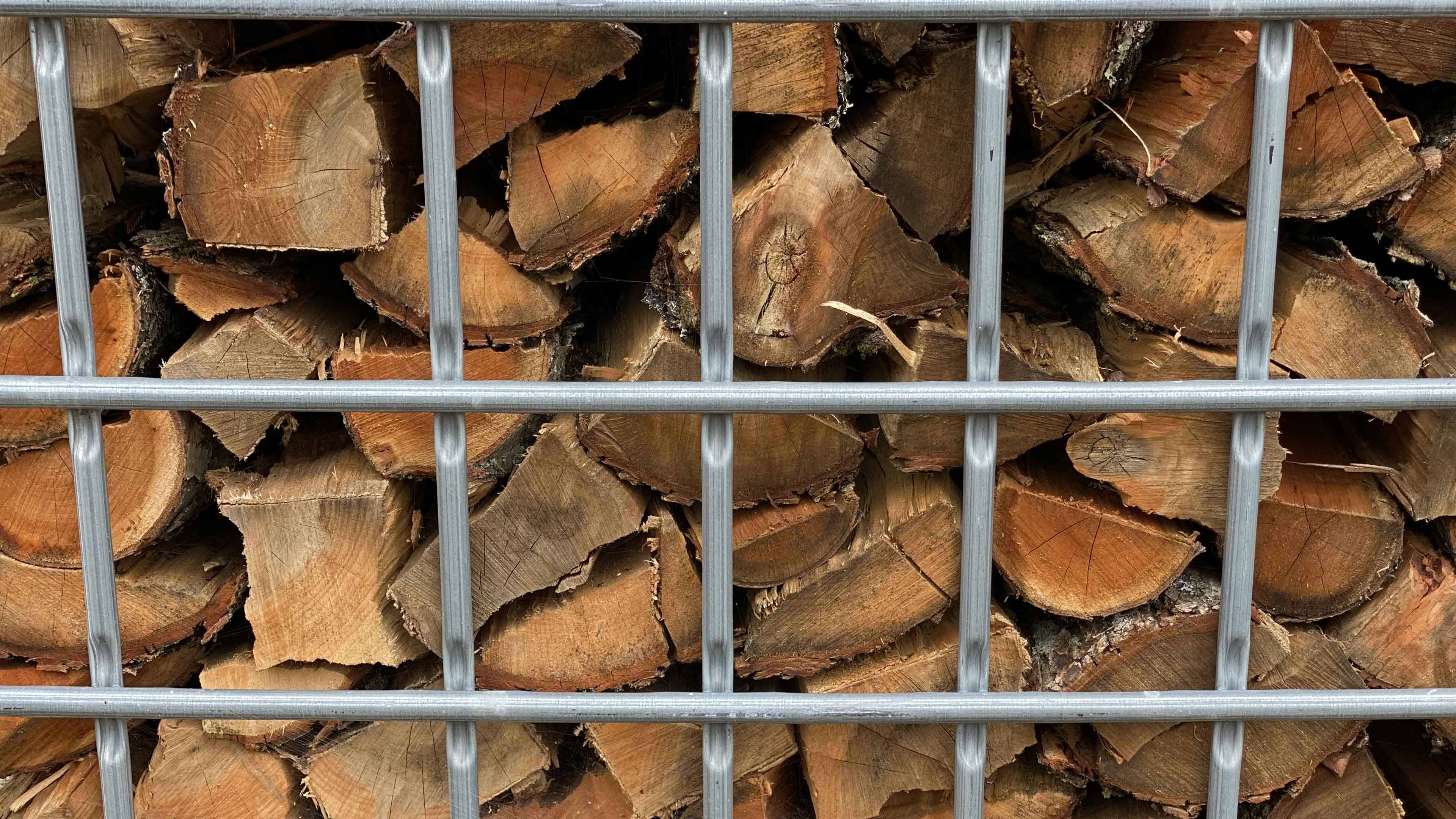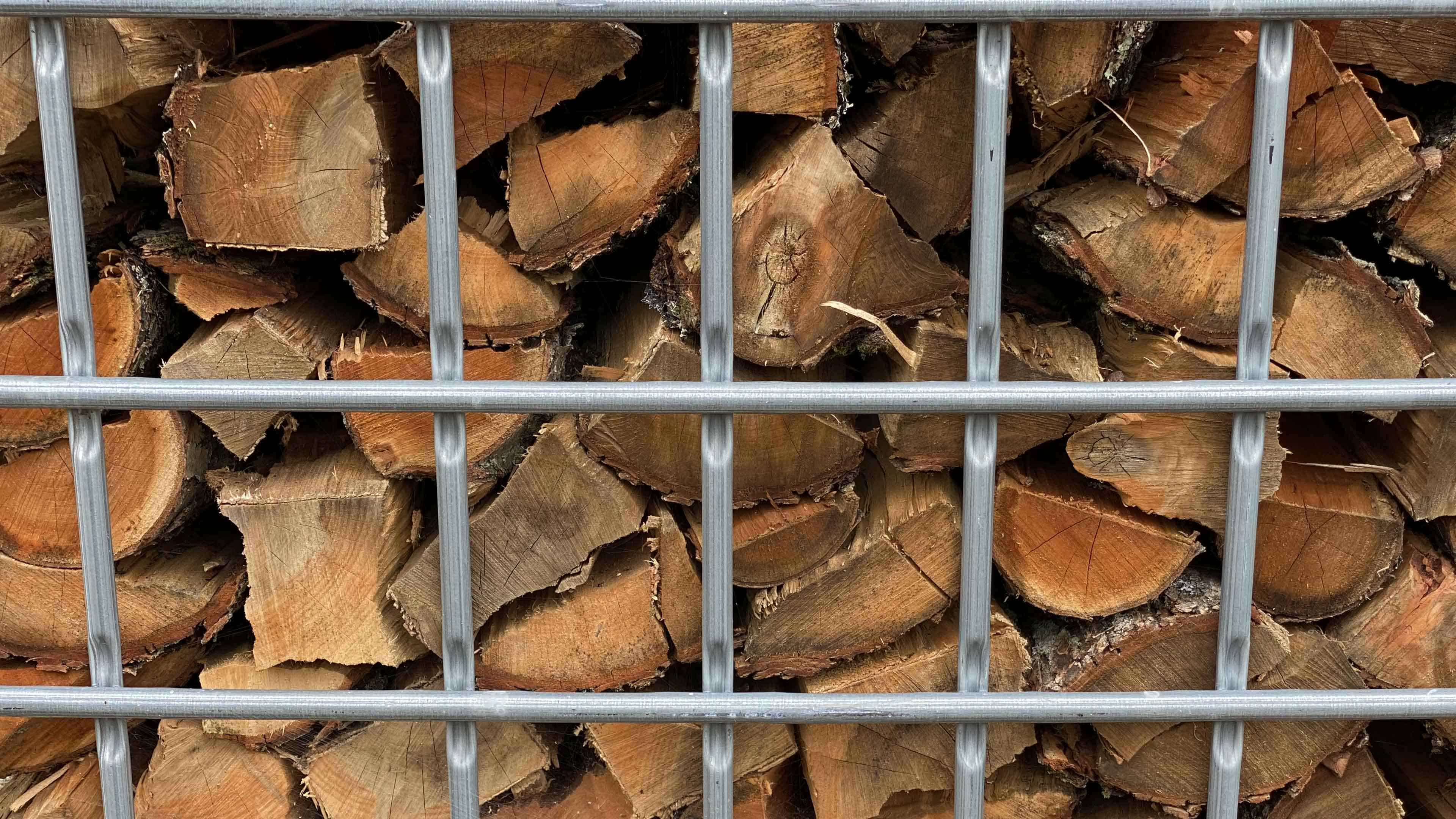 The Best Outdoor Firewood Storage Ideas
Aside from the firewood pile, Morgan outlines three better ways to store firewood.
Use an IBC Metal Tote. These totes are designed to hold a large water tank but they also are great for firewood. The only catch, is that once you've stacked your firewood inside the metal tote, you'll need to have access to a tractor or skid loader to move it around. Fully loaded, it will weigh approximately 1600 pounds. Morgan has about a dozen of these. The wood gets cut, split and stacked. Then, the open grid design of the totes allows for easy airflow. Morgan says you can usually source these totes locally. Because the totes are originally designed to hold water, they may come with a plastic tank inside. Some people, says Morgan, cut the plastic tank in half to use as a roof over the firewood. A tote stands as high as Morgan's chest. For easy access to firewood, Morgan takes a grinder and cuts a section out on one side of the tote, so it's easy to put wood in and get it out.
Build a woodshed. Ultimately, Morgan says the best place to store firewood is under the cover of a woodshed. Recently, Morgan built one. The key to a good woodshed, he says, is to make sure it's not all sealed up. You need to make sure there is still good airflow. For his shed, Morgan left openings between the roof and the frame and all of the siding boards have gaps between them. Morgan's woodshed is 8-feet deep. Although it's the best solution, when packed full, the wood in the center still will take some time to dry. And, the only other downside, says Morgan, is that you'll likely have to put wood in there by hand. If he puts the IBC totes into the woodshed, he won't get a lot of wood in the shed. Ultimately, no matter how you look at it, storing firewood, he says, is a lot of work but it's rewarding.
Make a single stack. Lastly, if you don't have a big supply of seasoned firewood and you want it to dry as quick as possible, the best thing, says Morgan, is to make a single stack of firewood and leave it out in the sunlight to dry. Although where Morgan lives in West Virginia there's a lot of rain, he leaves his firewood uncovered until about a month before he's going to use it. A lot of people will put a tarp over the whole stack of wood, but that keeps moisture in. Ideally, Morgan suggests just putting a tarp cover over the top and leaving the sides open for airflow. If rain hits it, Morgan says not to worry, when the sun comes out, any surface moisture will evaporate.
More Articles Like This: