Nature enthusiasts, look no further for a fun, festive holiday craft idea with ambassador Grae Buck! Creating a wreath or holiday garland with foraged materials from your backyard is an activity that the whole family can enjoy together. In addition to enjoying creating beautiful, natural décor, fresh foraged wreaths can bring wonderful aromas indoors.
While the project will consist of primarily natural materials, there are a few materials to purchase:
Wreath form
Thin wire
Wire cutters
Craft glue or floral tape
Pruning shears for harvesting materials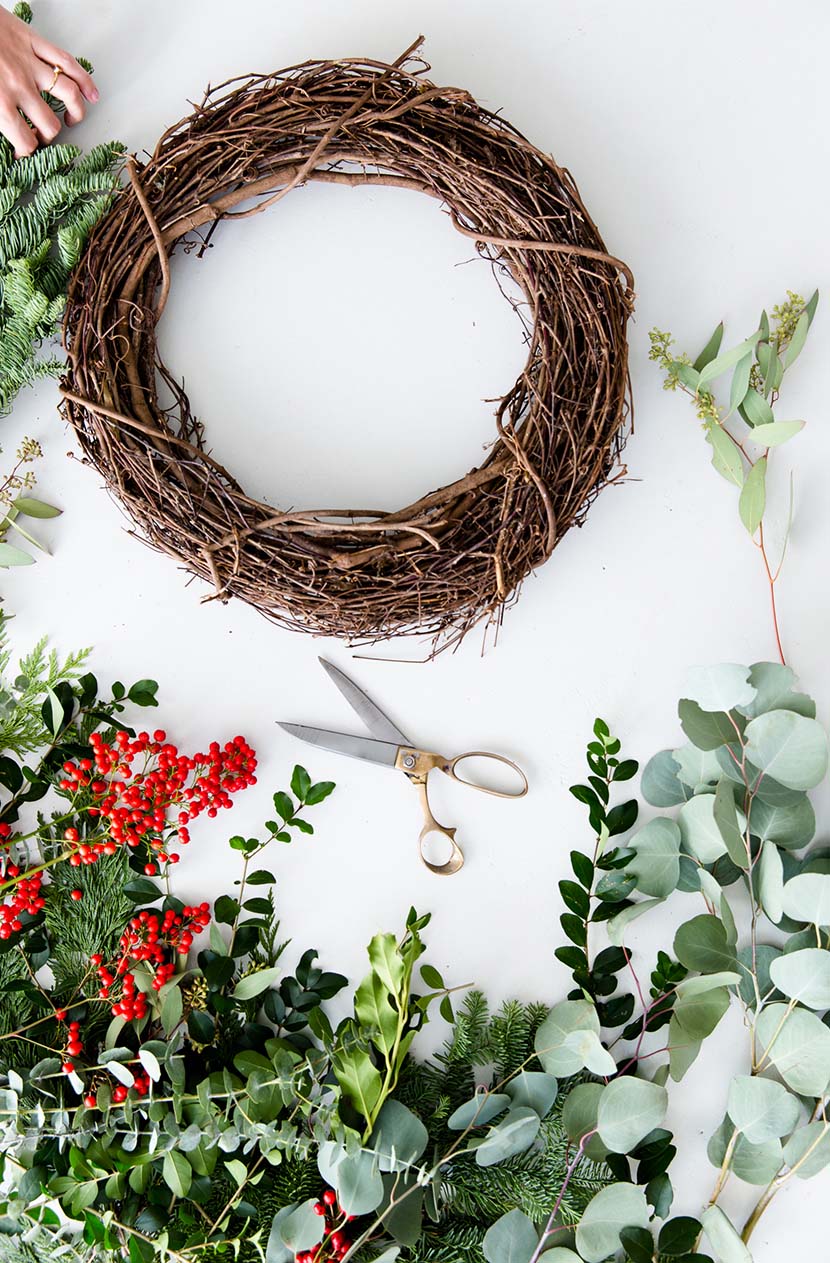 Step One
Harvest greenery or branch materials, including:
Evergreen branches, from pine, fir, spruce, juniper, laurel, bay, holly, ivy, boxwood, etc.
Vines, green or brown, that can be shaped around the wreath
Herbs such as Rosemary, Sage, Thyme, Lavender
Flower or dried flower heads and pods from Magnolia, Hydrangea, Sedums, Chinese Lantern Flower, Coneflower, Globe Thistle, or pinecones
Bark materials, such as iconic birch
Branch materials, such as Red Twig Dogwood or Holly (red), Yellow Twig Dogwood (yellow), Snowberry (white), or Curly Willow for added dimension to your wreath
Choosing several different types of greenery, with varying colors and textures will increase visual interest. Consider branches with berries for additional festive aesthetics.
Step Two
Begin by securing small bunches of the greenery to the wreath form with wire, overlapping slightly. Alternate which way the bunches are oriented on the form, angled left and right, to fully cover the form.
Step Three
Optional
Add on-foraged materials. Ribbons, jingle bells, or burlap bows can be incorporated to add textural contrast and a festive flare. Secure with wire, floral tape, or craft glue.
Looking to create a themed holiday wreath? Other items such as small ornaments or lights can be woven into the wreath for a Christmas theme or consider fabricating a wreath entirely out of herbs for an edible aesthetic amenity to your kitchen year-round!
Cautions:
Prior to harvesting your materials, familiarize yourself with poisonous plants, such as poison ivy or poison oak, which often grow as vines!
Inspect your plant materials for disease, insects, or insect eggs before bringing them inside your home.
When collecting materials in your backyard, limit your harvest from each plant, to prevent injury to the plant. Use proper pruning shears, and clip branches properly.
If you have pets in your home, ensure that your selected plants are non-toxic! (To both humans and animals). Examples of a few harvestable plant species to avoid due to toxicity to cats and dogs include Yew (poisonous to humans and animals) and Lilies (poisonous to dogs and cat).
More Holiday Articles: