Looking for a new and exciting recipe? These brisket stuffed jalapeño poppers topped with delicious honey hot sauce from David Bancroft is the recipe for you! David Bancroft is a James Beard-nominated chef and an incredible restauranteur and owner of Acre, an Auburn, Alabama eatery. If you're trying to find a recipe crafted by a top-tier chef, look no further.
At first glance, this might sound like an intimidating jalapeño poppers recipe stuffed with far too many ingredients, but when you take your first bite? You'll realize the flavors all work together to create the perfect little mouthful and will make the best complement to your next backyard event or a big game party.
Tips for Your Brisket
Cooking brisket isn't an easy feat, and it's a lot of work for these little brisket stuffed jalapeño poppers. And while it's true you can cut corners and buy it at pre-cooked at your local grocery store, half the fun is learning to do it yourself. The reward is far greater; that meat is going to be far more delicious than store bought.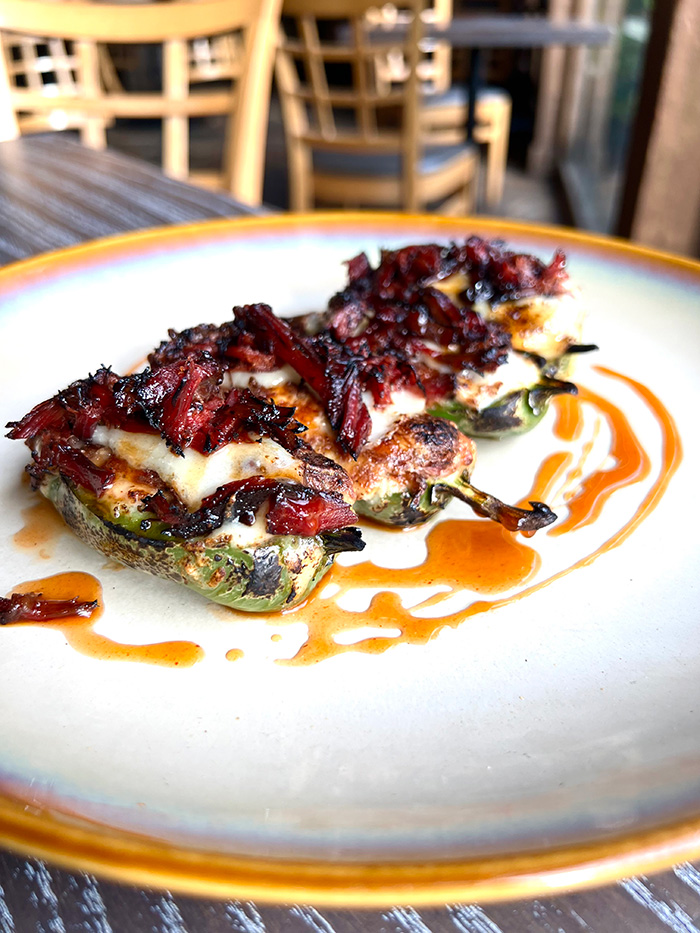 Buy the Best Meat
The first step in making the best brisket is buying the best meat. Experts recommend buying Choice grade or higher. This ensures you've got great marbling, which means enough fat to really make something tender and flavorful.
Trim Fat
Now, that might seem counter-intuitive when fat is part of what makes it taste so good. However, fat that's too thick, or considered "bad," will keep your brisket from cooking properly. You want to trim back that fat, but leave a thin layer to help trap in the moisture and flavor of your brisket.
Be Sure to Season
You don't want to skip the seasoning! That's what brings those delicious flavors you love to your brisket. If you're making brisket for this brisket-stuffed jalapeño popper recipe, you might want to use a smoky or sweet flavor to complement the spice of the jalapeño.
Decide How You Want to Cook It
This is probably the hardest decision to make—you have to choose how you want the brisket cooked. If you have the time, you can smoke it to really render those delicious flavors. If not, you can broil it, bake it, or grill it!
More Like This: