Prime Cuts host and top-chef David Bancroft shared this bonus recipe from his Auburn, AL restaurant—Acre. Impress your guests with this pan-roasted salmon recipe that's simple to prepare, but looks and tastes great. The salmon filet is plated with an arugula salad and corn bisque. The best part is that this crispy salmon recipe is ready in 6 minutes!
Pan-roasted salmon can also be made "backyard style" using a cast iron skillet to sear the salmon filet on your grill. The cast iron gets hot and stays hot, evenly. Turn the heat off for those last couple of minutes of cooking on the other side.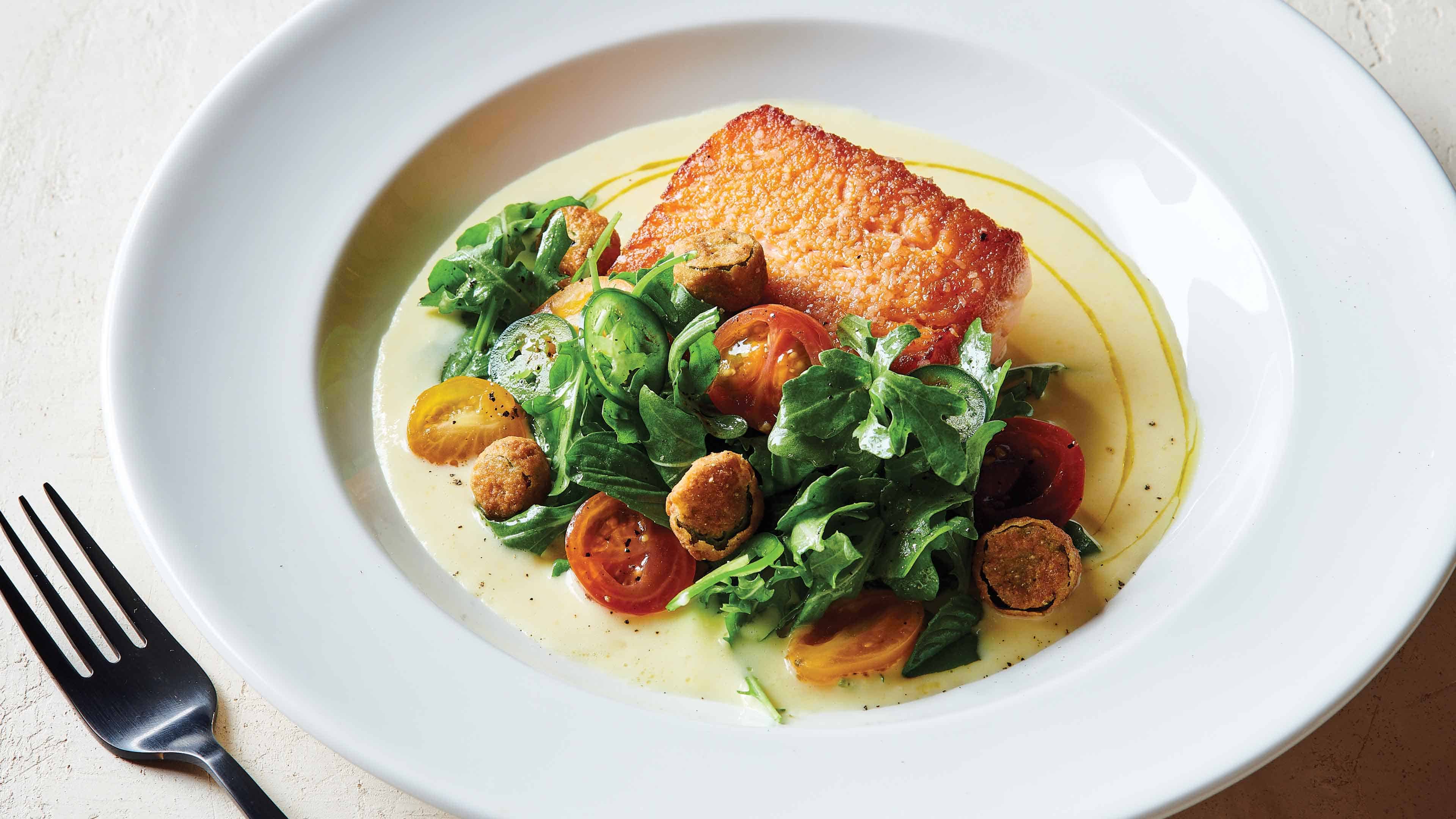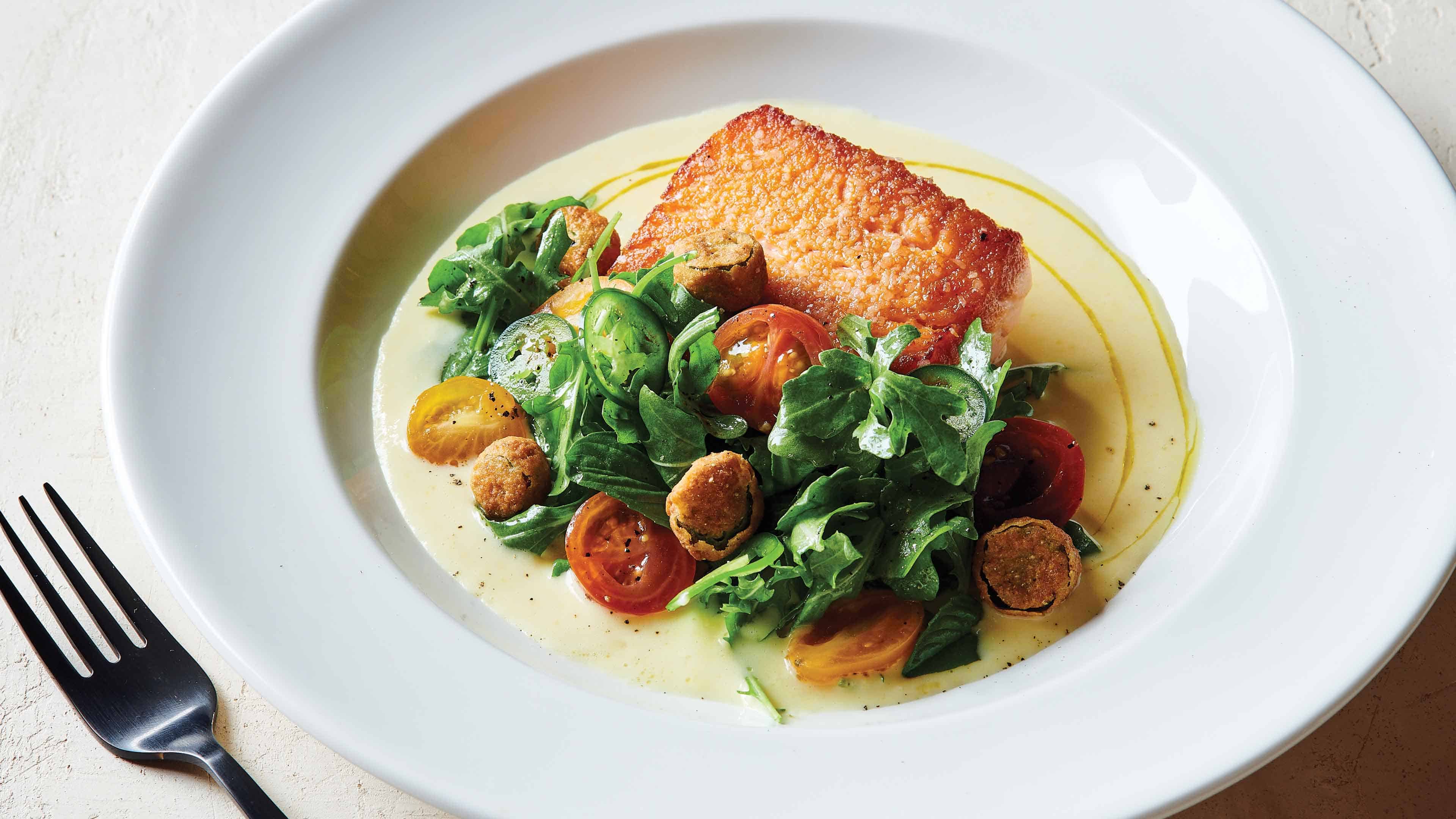 How to Prepare Pan-Roasted Salmon
Total Time: 6 minutes
1 tbsp. canola oil
2 6 oz. salmon filets
Salt and pepper
To prepare the salmon filet, season it generously with salt and pepper. Heat skillet to medium high and add oil once hot. Sear salmon two minutes on each side, or until it reaches medium cook temperature. Remove from skillet and allow it to rest for one minute.
Silver Queen Corn Bisque
Ingredients
1 stick salted butter

2 ears fresh silver queen corn

1 cup heavy cream

1 cup chicken stock

1/4 tsp. salt
To prepare the bisque, cut corn off the cob then simmer in a medium sauce pot with butter for two minutes on medium heat. Add stock and simmer for five minutes on medium-low heat. Add cream and salt, and bring to slow simmer for one minute. Remove from heat and blend until smooth.
Summer Garden Salad:
Ingredients
2 cups loose packed baby arugula

10 cherry tomatoes halved

1/3 shaved jalapeno

1 cup crispy fried okra

1/2 lemon squeezed 

2 tbsp. EVOO

A pinch of kosher salt and cracked pepper
Place arugula, tomatoes, and jalapenos into a mixing bowl. Whisk lemon juice, extra virgin olive oil (EVOO), and salt and pepper together to create a light vinaigrette. Pour over salad and fold gently.
Poblano Ranch Dressing
Ingredients
1 cup buttermilk

2 charred and peeled poblanos

1.5 cups Duke's Mayonnaise

2 oz. ranch seasoning packet
Begin by pureeing buttermilk and charred poblanos in a blender until smooth. Then, whisk together mayo and ranch seasoning. Chill before serving.
Plating Your Salmon Recipe
Ladle two to three ounces of bisque into an entre bowl. Place the roasted salmon just off center. Next, place salad so it lightly overlaps the salmon. Garnish with crispy fried okra-like croutons. Drizzle EVOO over the entire dish, and serve poblano ranch on the side.