Springtime brings more than just green grass and beautiful weather; with the change in seasons come spring showers and inevitably muddy pastures. Despite following proper pasture management strategies and mowing techniques with your Exmark, mud may be unavoidable on farms. Grooming is an important aspect of horse ownership and care, to ensure horse health, as well as to prepare your horse prior to riding.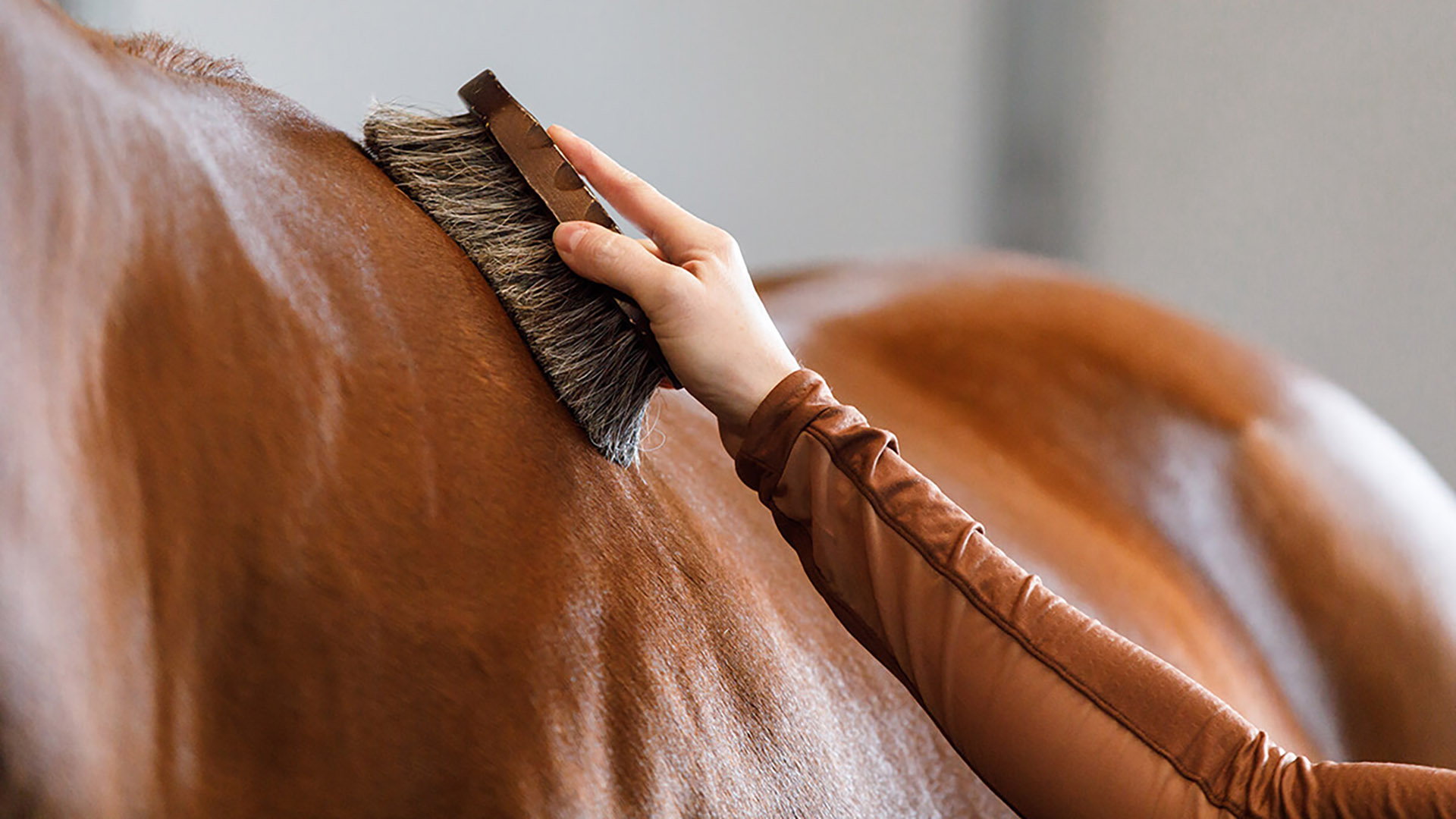 Benefits of Horse Grooming
Grooming helps to remove mud and loose hair and is also a great opportunity to connect with your horse. It's also an easy way to evaluate your horse for any injuries to ensure that they are happy and healthy. Grooming improves skin and coat condition, and cleaning the hooves ensures that they are free of mud and stones prior to riding to avoid bruising and prevent diseases like fungal or bacterial infections. Horses should be groomed weekly, and before and after every ride. Below outlines a few of the common grooming tools and horse grooming tips to keep your horse in tip-top condition.
When Mud Strikes: Horse Grooming Tips for Beginners
Curry Comb: The first tool is a curry comb. The curry comb can be hard plastic or rubber and is used on the horse coat in a circular motion, avoiding sensitive areas like the head or legs. The goal of this tool is to loosen hair and dirt. The curry also helps to increase blood flow and natural oils in the coat.
Stiff brush: The next tool following the curry comb, is the stiff brush or hard brush. This bristled brush is used in short strokes in the direction of the hair, to brush off the debris brought up by the curry comb.
Soft brush: Following the stiff brush, a similar yet softer brush can be used as a "finishing brush," to remove dust and debris. It can be used on all body parts, including the sensitive head and legs.
Mane brush or comb: Grooming the mane and tail can help prevent or remove knots and tangles and debris. The mane and tail are important tools to deter flies in the summer.
Hoof pick: A tool to remove debris from the sole of the hoof. Picking the hooves is very important to evaluate hoof health as well as to remove stones that could cause bruising, prior to every ride. Removing debris also helps to prevent bacteria and fungi that can cause hoof disease. To clean the hooves, lift each leg individually, and pick the V-shaped groove of the sole, avoiding the sensitive frog (center of the hoof).
More Like This: