With spring on the horizon, it's a great time to consider your annual gardening goals. In addition to summer annuals, perennials, and vegetables, consider planting trees to add myriad benefits to your backyard. Planning upfront and paying attention to the tips in this tree planting guide will help to ensure the success and longevity of your trees. This article provides guidance and tree planting basics.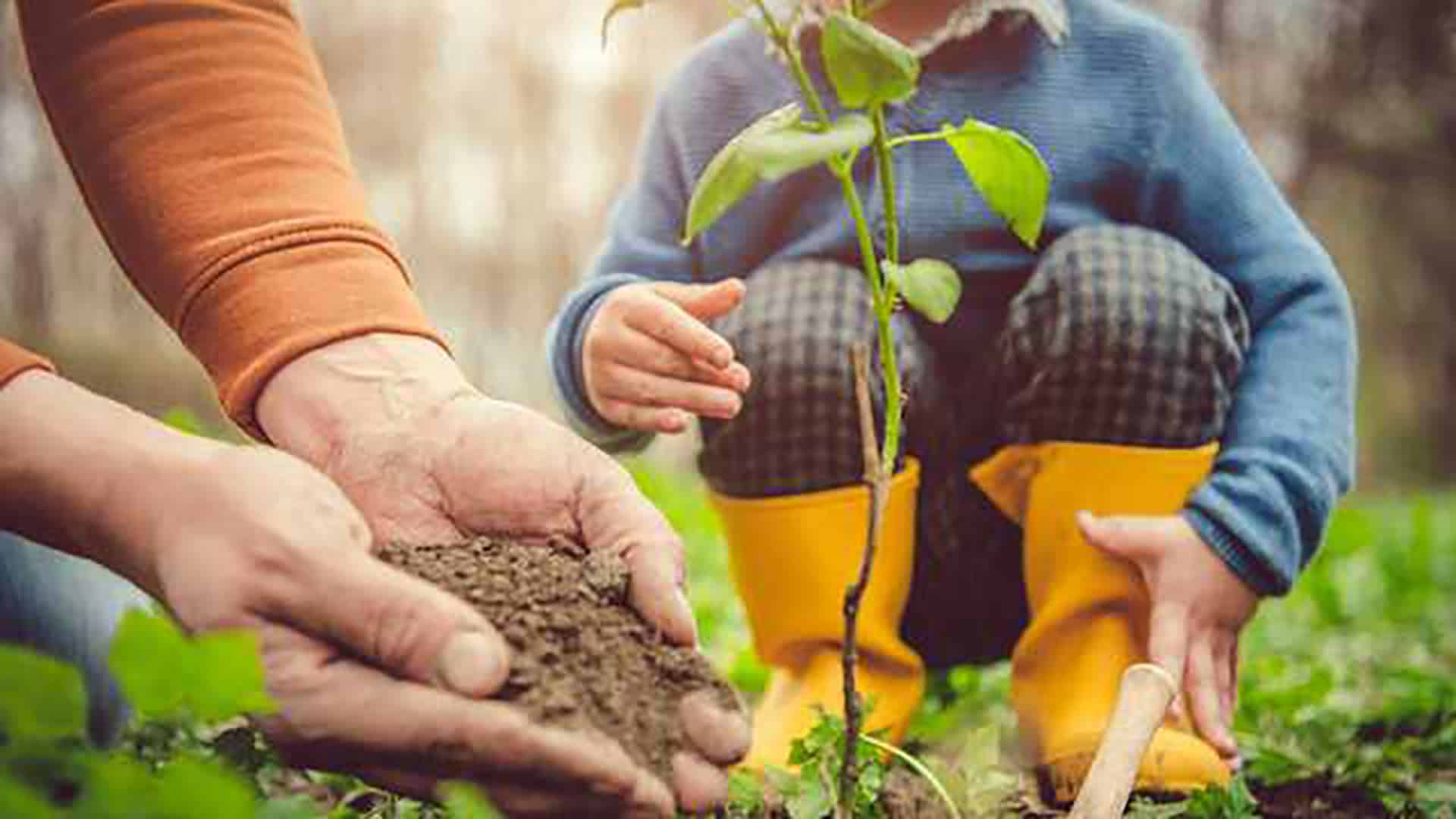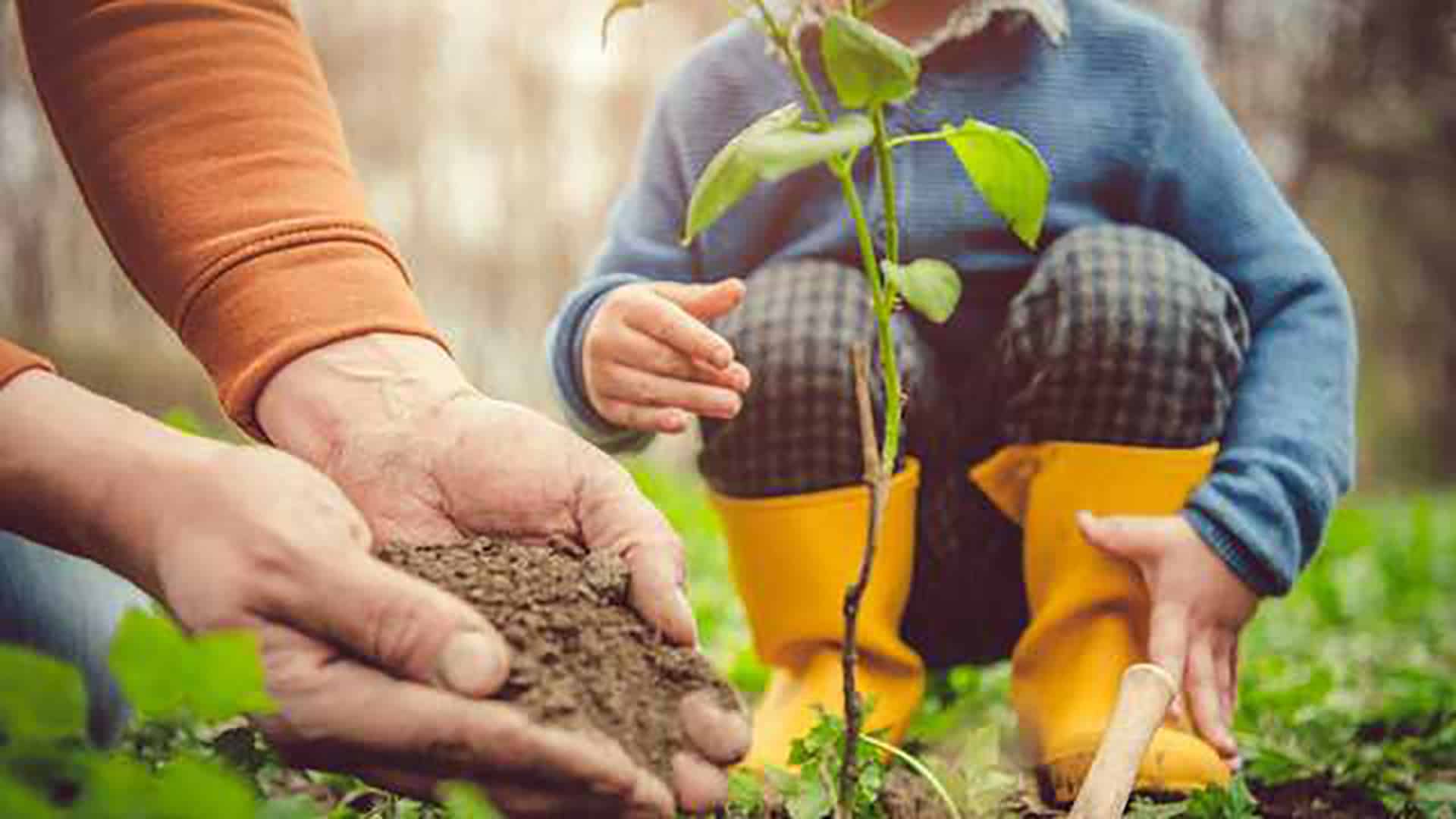 Pre-planting Considerations
When selecting tree species for your backyard, consider these factors:
Native species— Select trees that are adapted to your climate and growing conditions as they provide the most benefits to wildlife and pollinators. Consult with your local garden center to select the best native tree species for your backyard. Avoid non-native—and especially invasive—species which could threaten the biodiversity of your landscape. Also consider current pests and diseases, as certain species are targeted by pests—such as the Emerald Ash Borer, which is devastating Ash trees.
Purpose—What are the intended goals for your tree planting? Wildlife and pollinator benefit? Curb appeal and aesthetic benefit? Wind break or shade? Different species offer different benefits.
Maintenance—Consider your maintenance goals and tolerances, compared to the maintenance requirements of the desired species. For instance, evergreen species do not drop leaves, whereas deciduous species require leaf cleanup in the fall. Other considerations include seed pods that might drop—like Black Walnuts—as well as the pruning requirements. Certain trees are more fragile and require more maintenance, while others are easier to care for and manage.
Sunlight requirements—Consider the light preference of your desired tree species, as well as the availability of light in your yard. While most tree species prefer ample sunlight, there are species that thrive in partial shade.
Moisture requirement—Consider the moisture preference of your desired species, as well as the soil moisture in your planting areas, because moisture requirements vary greatly by species. Trees that prefer well-drained soils and dry roots, referred to as upland species, will not thrive in lower-lying wetland areas, and vice versa for water-loving species, which thrive in moist, or hydric, soils.
Soil—Soil properties vary greatly by geographic region. Certain species are well adapted to drought or less fertile soils, while others depend on rich, organic soils. Verify the soil needs of your desired species before planting, and consider soil testing your planting area, if unsure. Soil fertility, specifically nutrients and pH, as well as soil physical properties (percent clay and sand) are important characteristics to know.
Space consideration—While tree seedlings can be deceivingly small and manageable in size, be sure to research the mature size (height and diameter) of your desired species, to ensure satisfactory space for your new tree plantings. Consider canopy cover, as well as proximity to structures—such as houses or power lines. Trees should also be planted away from in-ground septic systems, pools, or underground utilities, to prevent root infiltration.
Timing—There are important seasonal considerations when planting trees to ensure the success and longevity of the plantings. Dormant seasons—in the fall after leaf drop and early spring before bud break—are ideal times to plant new trees. Trees are more sensitive to stressors, especially as they establish roots after plantings. Heat and drought are significant risks to avoid when planning your tree plantings. If you plant your tree in the spring, remember to give it a weekly watering throughout the summer. To avoid the threat of summer heat and drought to newly planted trees, fall plantings may often be a safer option in warmer climates. Fall plantings will require routine, yet less frequent, moisture throughout winter as well.
How to Plant a Tree
Follow this tree planting guide to ensure success:
Identify any underground utilities prior to digging. Call 811 "call-before-you-dig" to mark underground utilities.
If root-bound, gently free the roots prior to planting. Be sure to remove any root ball coverings prior to planting to facilitate better root growth.
As a general rule of thumb, the hole should be two to three times wider than the root ball.
Ensure proper planting depth, as planting too deep or too shallow can be harmful to the tree. The trunk flare, where the trunk expands at the base, should be partially visible at the soil surface. See the diagram below for ideal planting depth, with the trunk flare as a reference.
Center the tree in the hole, straighten, and backfill gently (but firmly) with soil to stabilize the tree.
Mulch around the base of the tree, about 2-3 inches deep, to prevent vegetative competition growth, and to prevent moist bark that could lead to decay. Mulch should not touch the trunk and should be pulled away from the trunk flare.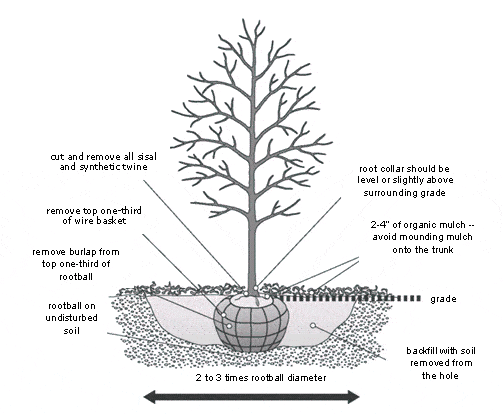 And that's it! We hope you enjoyed this tree planting guide and find success and joy with your new landscape.
More Planting Tips: