In this Backyard Life video, Willow Hand demonstrates how to build a DIY outdoor sofa out of 2x4s and 1¼-inch fence boards. The rural living expert found several different designs she liked, and combined them to create a finished product that fit her personal design style.
Willow chose to keep this DIY build simple by using only two materials: 2x4s and fence boards. Willow designed these outdoor sofas around the size and shape of the cushions, since it's difficult to find cushions after a specific-sized couch/sofa has been built. (She says it's a good rule of thumb to follow when building your own outdoor sofa.)
Materials (Per 6-Foot Outdoor Couch/Sofa)
(10) 8-foot, pressure-treated fence boards (1 1/4 inch x 6 inch)
(6) 8-foot, pressure-treated 2x4s
Outdoor Sofa Build Steps
Build the seat frame

Cut all 2x4s to the width and length of your cushions
Add 2×4 supports in the middle of your rectangle (2-3 supports depending on the length of the couch/sofa)
Add fence boards on top of the frame to create drainage gaps

Build side armrests and couch legs out of 2x4s
Attach arms to seat base
Attach fence boards to arm rests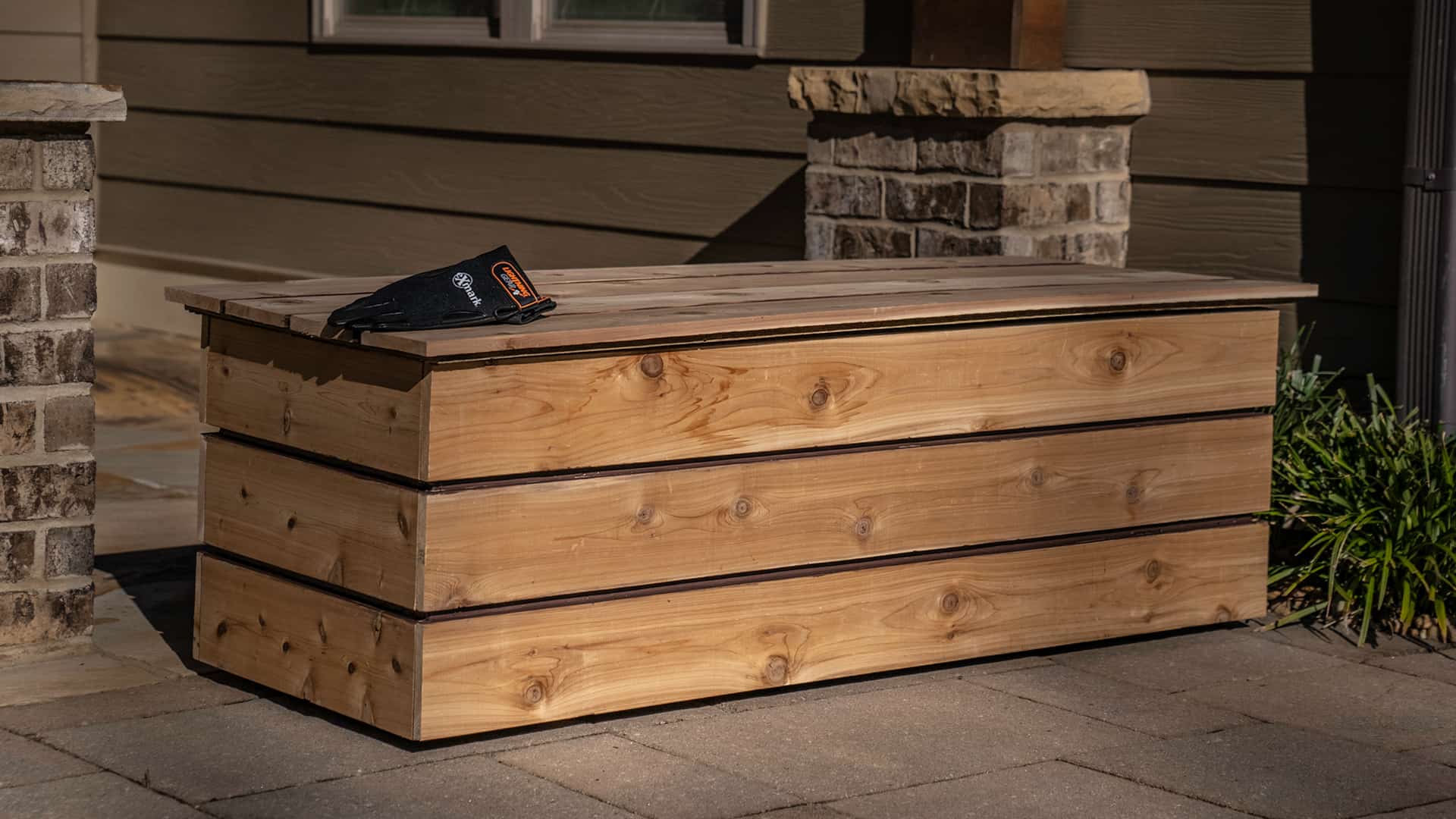 RECOMMENDED VIDEO:
In this Backyard Life video, landscape designer and Done-In-A-Weekend Projects host Doug Scott and his good friend, Jaime, show you how to build a patio storage bench that plays double duty. This DIY outdoor storage bench not only provides a comfortable place to sit outside, but also a convenient place to store the stuff you'll need while you're out there. And, as you'll see, its design is also really attractive. So, it's the best of both form and function!
Tool List
Miter or circular saw
Impact driver or drill
3-inch and 1 5/8-inch wood screws
Tape measure
Framing square
Clamps
Level
Marking pencil
Other Considerations
For easier portability, use 1x6s or non-pressure-treated wood, as well as add wheels
Miter cut along the sofa back to dress up the look
More Outdoor Seating Builds: