With fall right around the corner, homeowners across the country are preparing to harvest their last crop. And, if you have a bunch of fruits and veggies on your hands, trying to use them before they all spoil can be a bit of a headache. So, follow along in this Backyard Life article and discover how to enjoy your harvest, all year-long with these tips on canning and preserving!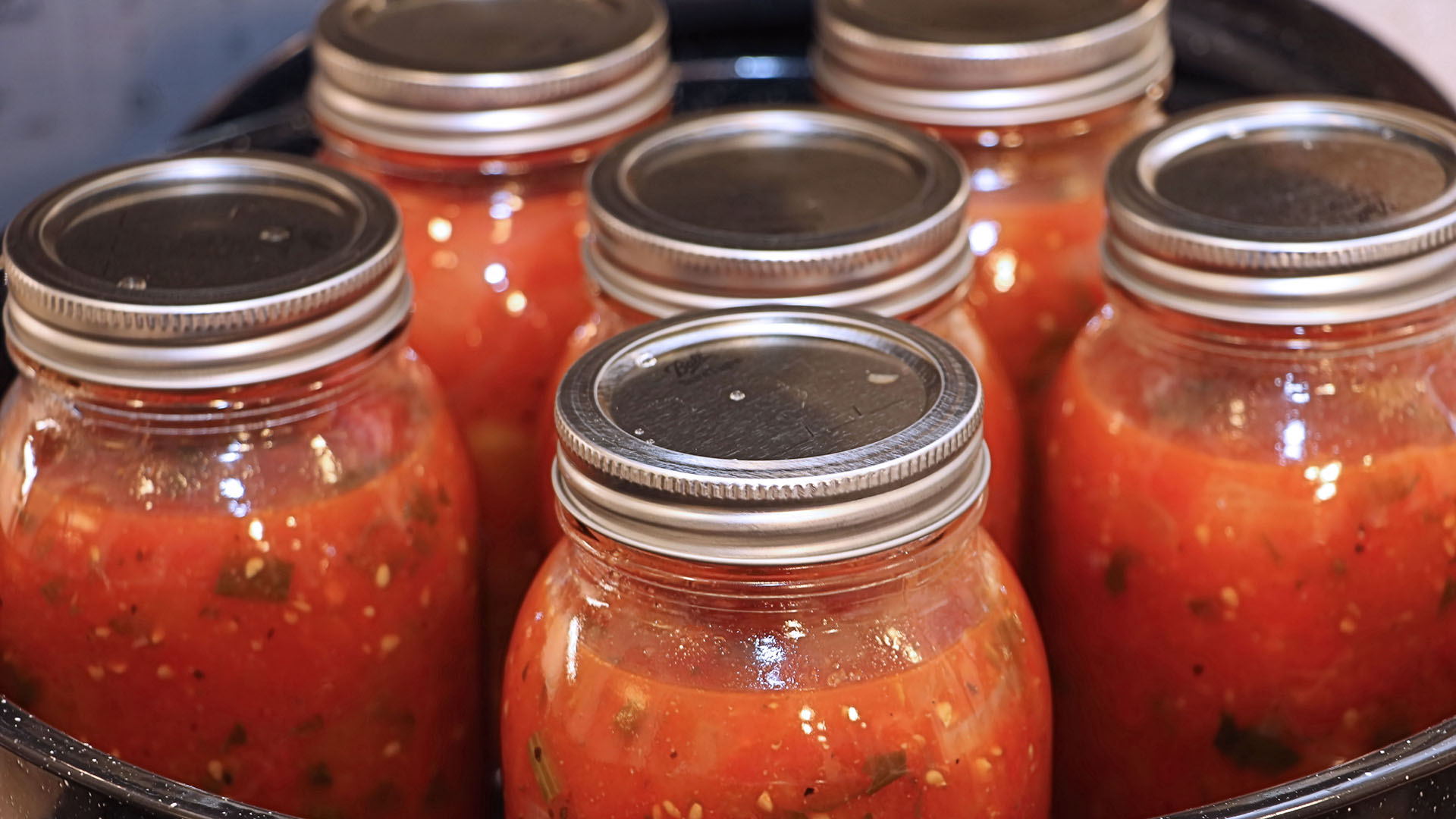 How to Prepare Foods for Canning
There are two methods for preparing foods for canning: raw and hot packing. While both are viable options of preparation, the preparation method depends on the canning method you select. Raw packing is when you place raw, unheated foods directly in the jar and fill it with boiling water, juice, or syrup. This is the best way to prepare veggies that are going to be processed in a pressure canner. Conversely, hot packing is when you boil the food before packing. It's then canned into the jars alongside boiling liquid. We recommend trying out this process with this delicious white chili. Hot packing is also the most efficient way to remove air from the jar; however, it requires more work up-front given you have to boil both the foods and the liquids first.
How to Determine the Correct Canning Method
Just like there are different ways to prep food for canning, there are different methods of canning it. The first method, the boiling water bath, is best for fruits, tomatoes, pickles, jams (like this tasty jalapeño bacon jam), jellies, preserves, and high-acids foods. For this process, the boiling time is determined by the food type and headspace in your canning jars. Read more information on the boiling water bath method.
Atmospheric steam canning is used with naturally acidic foods or properly acidified foods with a pH of 4.6 or less. This includes most fruits, preserves, and pickled veggies. Unlike boiling water baths, this process requires you to buy a steam canner to preserve foods—which is both more efficient and uses less water. Learn more about atmospheric steam canning.
Finally, the last canning method is pressure canning. This process is most safe for low-acid foods with a pH higher than 4.6—so, veggies, meats, poultry, and seafood. It involves jars being placed in 2 to 3 inches of water in a pressure canner at a temperature of 240 ºF. Visit the Better Homes & Gardens website for more information about pressure canning.
How to Freeze Food
The easiest and most convenient method of preservation is freezing. This simply involves you using freezer-appropriate containers that are moisture resistant, leak-proof, easy to seal, and easy to label. All that's needed is to store the foods at a constant temperature of 0 ºF or lower to keep them from becoming mushy.
How to Dry Food
There are a variety of methods for drying your food. This includes leaving it in the sun, in an oven, or in a food dehydrator. Proper research needs to be done before you start this process to determine which method works for the food you're attempting to preserve. When drying your food, you want to keep them at a temperature of 140 ºF. If anything higher than that is used, the food will cook instead. Make sure to also plan enough time for each piece of food to dry. Most fruits take around 6-16 hours to completely dry out, while apricots, grapes, figs, and pears can take up to 36 hours. Likewise, the thickness of a strip of meat determines how long it takes to dry. Meat typically takes 5 to 12 hours to dry out—but the thicker the strip, the longer the drying time.
How to Properly Store Food
Once your foods have been properly preserved, wash residue from the jar, label the contents, date, and store in a cool, dark, dry place. Ideally, the space is around 50 to 70 ºF. It's also best to try and use all canned foods within a year. If the food has been opened, don't dispose of the liquid or brine! Instead, transfer it to an airtight container and keep it at a low temperature at the back of the fridge.
Now that you know how canning and preserving works, all there's left to do is harvest your next crop, grab the correct materials, start prepping your food, and get to work! And, with plenty of canning recipes, you have nearly unlimited ways to get the most flavor out of your food.
More Like This: