Running short on space in your traditional, in-ground garden? Then, it's time to discover a whole new gardening dimension: building a DIY vertical garden bed. They provide more space to grow, and are particularly great for planting herbs.
Vertical gardens can be used to redefine your backyard by arranging them to create outdoor "rooms," allowing you to add a beautiful splash of greenery while separating your seating area from your grilling station. Or, they can be used to plant your favorite annuals, enabling you to enjoy a vibrant swath of colors while spending time with friends and family on your patio. So, join landscape designer and host Doug Scott in this Done-In-A-Weekend Projects episode for expert advice and guidance on building your own DIY vertical garden!
Vertical Garden Tool List
Scissors
Tape measure
Marking pencil
Staple gun
Staples
Crowbar
Hammer
Drill/Driver
Screw/Drill bits
Material List
(1) Recycled pallet
(1) Roll landscape fabric
(1) Backer board, cut to dimensions of pallet
DIY Vertical Garden Build Steps
While dubbed a "done-in-a-weekend" project, this vertical garden build can be completed in just a few hours. Here's how to go about crafting one:
Using a crowbar and hammer, remove every other horizontal pallet board to provide access, and equal spacing, between the remaining boards.
Measure spaces between the uprights for width. Then, measure fabric height, allowing for the fabric to be attached on the top of a board, down the length of that board and to the back, and then back up the length of the adjacent board on the backside.
Cut the landscape fabric to the length and width of each section.
Use the staple gun to attach the fabric to the top of the frontside board—folding the fabric ½ in. and stapling through the fold for added strength.
Then, attach the fabric to the back of the backside board—running it along the side and over the top of the board, leaving enough fabric to create a trough between the boards.
Take the backer board and line it up with the corners of the back of the pallet, then screw it into place.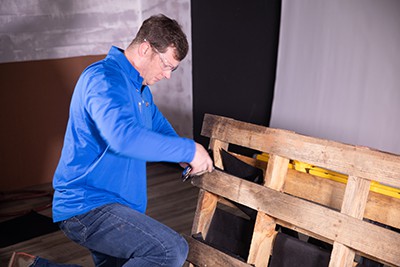 That's all there is to it! This quick and easy build is a great way to provide some depth and breadth to your garden, as well as grow fresh herbs in spaces you've only ever dreamed of. Even better, you can build multiple vertical gardens to create a "wall" of sorts, helping further define separate living spaces in your garden.
So, now all that's left to do is grab a pallet, roll of fabric, sheet of backer board, and the necessary tools to help redefine your backyard.
More Like This: