Lawn Aeration Tips and Tricks
A healthy lawn is a happy lawn, but do you know how to go about keeping it green all summer long? That's where knowing the why, how, and when of aeration comes into play. In this Done-In-A-Weekend Projects episode, join landscape designer and host Doug Scott to get the low-down on lawn aeration. He'll help you get the know-how on the proper machinery to use, learn why aeration is a great way to keep your lawn healthy, and discover how to aerate your soil.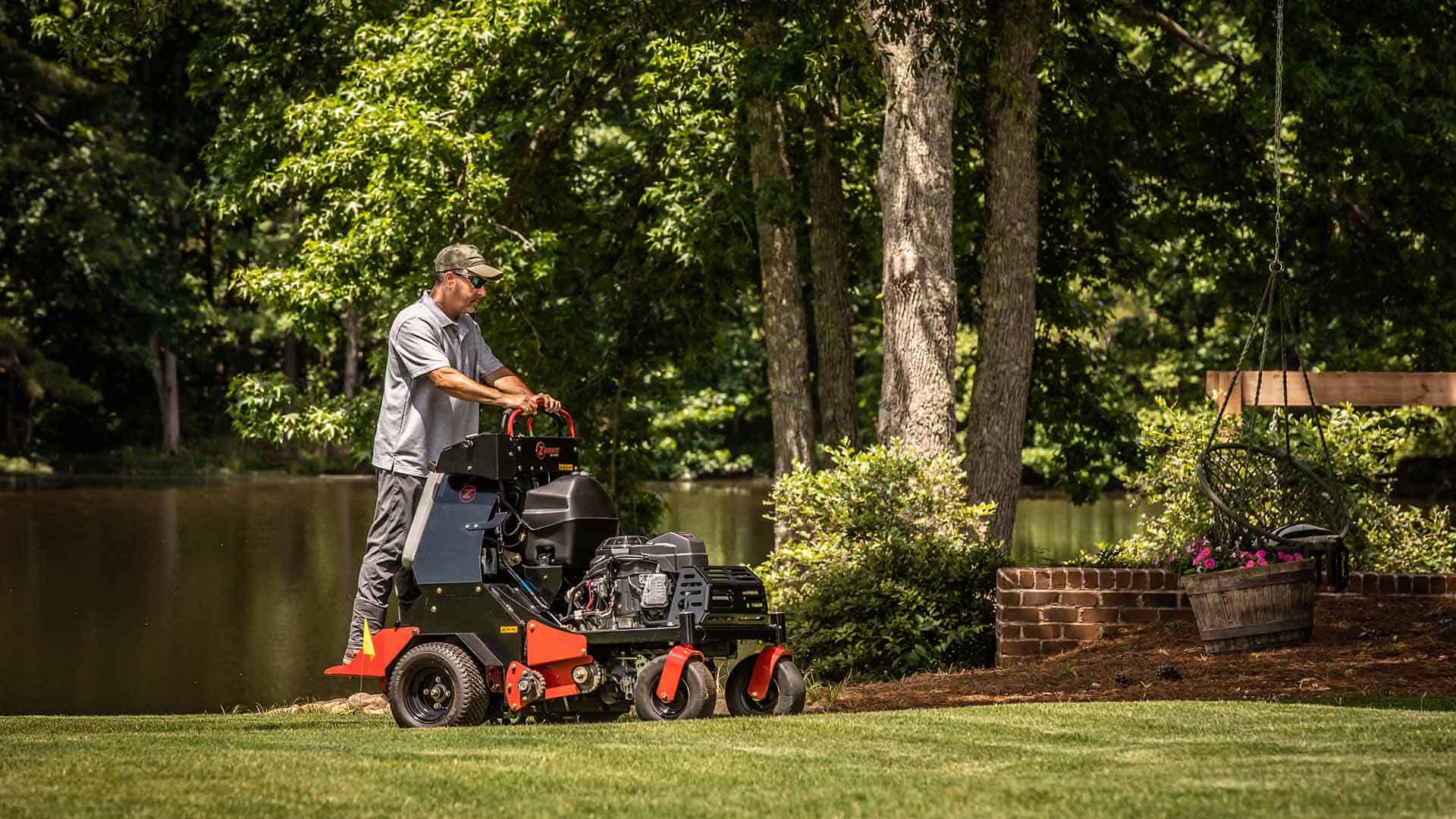 Why Aerate?
Aeration is the process of creating holes in your lawn to break up compacted soil. This allows the necessary air, water, and nutrients can get through to your grasses' roots. Without these, it'll be a maintenance nightmare—and your lawn will look worse for wear.
Compaction occurs when vehicles or equipment run over your yard, pushing the soil down and packing it tightly together. Compaction also takes place when you and your family are outside enjoying the backyard life—people walking, kids playing, or pets running across your lawn can make it nearly impossible for the necessary air, water, and nutrients to reach the roots.
That's not to mention the soil makeup in your area. If you live in an area with a heavy concentration of clay, your soil may already be compacted. It can then more easily become compacted in the future, making aeration the smart thing to do annually.
Lawn Aeration Methods
Now that you know the "why" of aeration, it's time to learn the "how." All you need to see if your lawn is compacted is a screwdriver! Just take the screwdriver and drive it in your lawn—if you can't do it easily, it means your soil is compacted and it's time to bring out your aerator.
Aerators fall into two categories: core (or plug) and spike. Core aerators (such as the Z Turf Z-Aerate 30) are heavily recommended for larger jobs. They consist of rows of hollow tines that remove plugs of soil and lay them across the top of your yard. This leaves you with a lawn that's no longer compacted and plugs of dirt that'll break down over time.
For a less expensive option, spike aerators look (and work) exactly how they sound—they're just a small spike that you use to poke holes in the ground. However, they're considered less effective given that they don't go as deep and sometimes wind up further compacting the soil.
When to Aerate Your Lawn
For warm-season grasses—such as Zoysia, Bermuda, and Centipede—you'll want to aerate your lawn in the spring or early summer. Warmer seasons are when these grasses are growing most rapidly. Conversely, cool-season grasses—such as Fescue, Kentucky Bluegrass, and Perennial Ryegrass—are best aerated in the fall. Cooler seasons are when top growth slows and root growth increases. As always, it's best to do your research on the type of grass you have in your yard so you can know when to aerate it.
Need-To-Know Terms
While researching how to best care for your lawn, there are two other aeration-related terms that you'll frequently come across: dethatching and overseeding. As the name suggests, dethatching is the removal of the thick layer of thatch on your yard. Thatch is the decomposition of organic matter (dead grass, leaves, stems, etc.) that builds up between your turf and soil. It eventually accumulates to the point where the air, water, and nutrients can no longer reach your grasses' roots. This will require you to remove this layer to help your lawn thrive.
On the other hand, overseeding is when you sow seed directly over a lawn to fill in bare spots or improve the density of your grass. This is often done just after aerating to help the grass seed take root.
Now that you have everything you need to know about aeration, there's only one thing left to do: get outside, get aerating, and help your lawn breathe. Your yard will thank you later.
Download an in-depth PDF to see aeration benefits in action:
More Like This: